William F. Marshall, PE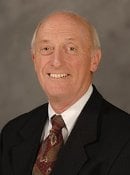 BS Civil Engineering 1969
William F. Marshall completed his baccalaureate degree in civil engineering in 1969. He is Vice President of Engineering and Development of MearsGroup, Inc., an international engineering and construction service provider to the pipeline industry with over 500 employees.
Mr. Marshall joined Mears in 1989 as Director of Engineering; he assumed the role of Vice President of Engineering in 1994, and his current role as Vice President of Engineering and Development in 1997. Prior to joining MearsGroup, Mr. Marshall spent 20 years with Michigan Consolidated Gas Company. He assumed positions of increasing responsibility from his initial position of Staff Engineer in 1969 to General Manager of the Northern and Upper Peninsula Districts in 1982.
Mr. Marshall is a Professional Engineer in Michigan and Ohio and a member of the Michigan Society of Professional Engineers. He is also a member of the National Association of Corrosion Engineers, American Gas Association, and Southern Gas Association.
Bill and his wife, Phyllis, reside in Mount Pleasant, Michigan. They have three adult children; Frank, Bill Jr., and Michelle, and six grandchildren.
From 2007 Induction to the Civil and Environmental Engineering Academy