William J. Bier, PE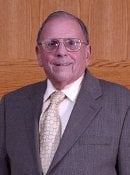 BS Civil Engineering 1950
William Bier, originally from Ironwood, Michigan, served for two years in the US Navy before attending Michigan Tech. He completed his baccalaureate degree in civil engineering in 1950. Following graduation he joined Dunn Construction Engineering, Inc. as a field engineer and over the course of his career rose to the level of CEO. After retiring in 1991, Mr. Bier formed his own consulting firm, WB Engineering.
Mr. Bier has been active in a number of professional organizations including: the American Society of Civil Engineers, the National Society of Professional Engineers as Past National Director, and the Michigan Society of Professional Engineers as Past State President. His community involvements are many including: City of Marysville, Mayor 1966-68; Marysville Planning Commission, Chairperson; Boy Scouts of America, Blue Water Council and Goodwill Industries Board of Directors.
While at Michigan Tech Mr. Bier was active in the civil engineering honor fraternity, Chi Epsilon, and Tau Beta Phi.
Profile excerpted from 2005 Induction to the Civil and Environmental Engineering Academy; updated vital statistics on March 18, 2015.