John Van Huis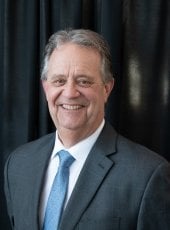 BS Civil Engineering 1976
John Van Huis completed his Bachelor's Degree in Civil Engineering at Michigan Tech in 1975. Upon graduation, he joined the Chicago and Northwestern Railroad (CNW) in the Chicago offices as a structural engineer. He went on to be engineer of coal line bridges for the new Powder River Basin coal fields in Wyoming and then bridge engineer for the entire CNW system.
In 1987, he joined the investment group of CNW employees who purchased the Soo Line RR assets in the state of Wisconsin and Michigan's Upper Peninsula. The Wisconsin Central Transportation Company (WCL) went on to own railroads in New Zealand and Australia where he oversaw bridge replacements and construction. While at WCL, he earned an MBA from the University of Wisconsin, Oshkosh. In 1999, he joined Radtke Contractors and formed their railroad bridge and construction division. In 2009, he finished his railroad career with Alfred Benesch as senior project manager of railroads and vice president of the Wisconsin division and retired in 2016.
Mr. Van Huis is a registered engineer in the State of Wisconsin. He has been involved in many national railroad associations over the years. He was a member of the American Railroad Engineering Association (AREA), Roadmasters and Maintenance of Way Association, and American Railway Bridge and Building Association, where he served as president in 1994. All three of the organizations were merged to form into what is now known as the American Railway and Engineering Association (AREMA).
John and his wife Suzanne reside in Winneconne, Wisconsin. They have two sons and one grandchild. They have both been deeply involved in their son's lives, coaching youth hockey, soccer, and volunteering for the Oshkosh YMCA swim team. They are also supporters of the late great singer-songwriter Dan Fogelberg Prostate Cancer Foundation. In retirement, John enjoys substitute teaching in the local school systems, gardening, and international and domestic travel.
From the 2022 Induction to the Civil, Environmental, and Geospatial Engineering Academy.
Updated Monday, August 29, 2022