Thomas Kaderabek, PE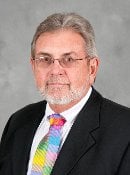 BS Civil Engineering 1973
MS Civil Engineering 1974
Thomas Kaderabek completed his baccalaureate degree in civil engineering in 1973 and his master's degree in civil engineering in 1974 with an emphasis in geotechnical engineering. He started his career with Law Engineering Testing Co. in Coral Gables, Florida as a Staff Engineer advancing to Senior Geotechnical Engineer. In 1982 he co-founded KBC Consultants, Inc. (later known as Kaderabek & Barreiro Consultants, Inc.). The company specialized in geotechnical, environmental, and materials engineering consulting services in the State of Florida. In 2003 he founded Kaderabek Company of Doral, Florida and continues to provide his geotechnical and materials engineering expertise with a staff of 20 people.
Mr. Kaderabek is a member of the American Society of Civil Engineers, Deep Foundations Institute, and the Association of Soil and Foundation Engineers. In 1979 he was awarded the Young Engineer of the Year Award for Professional Achievement by the South Florida Section of ASCE. He has been active in the organization and is a past President of the Miami Dade Branch and has served on the National Geotechnical Committee on Shallow Foundations.
Mr. Kaderabek is a registered Professional Engineer in four states. He has authored over a dozen peer reviewed journal publications and numerous conference presentations and has had Adjunct Faculty appointments at the University of Miami and Florida International University.
While at Michigan Tech, Tom was an active member of Phi Kappa Tau. He and his wife, Ana, reside in Miami, Florida.