Theodore C. Williams, PE, DEE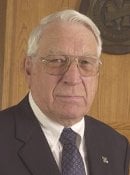 Mr. Ted Williams, Chairman of the Board (retired), Williams & Works, began his education in civil engineering at Michigan Tech then enlisted in the U.S. Army 10th Mountain Division in 1942. He completed his baccalaureate degree in civil engineering at Michigan State in 1948. He earned the right to the title 'Diplomate' of the American Academy of Environmental Engineers in 1959.
At Williams & Works he specialized in ground and surface water development and treatment as well as wastewater treatment. His Houghton Lake Sewerage Project was the first time in the world that natural wetlands were incorporated as an integral step in the wastewater treatment process. That project was recognized as one of the 10 most important engineering accomplishments in Michigan history. Other award winning innovative solutions to clients problems included a tunnel to skim fresh water floating on seawater in Bermuda; a water treatment plant to treat either well water or surface water with storage of treated water in the aquifer to meet peak demands; and below lake bottom intakes in Lake Michigan
Mr. Williams was a member of the National Society of Professional Engineers and was first registered as a Professional Engineer in Michigan in 1951 and subsequently in seven other states. He is a past Director of: The Water Pollution Control Federation, The Michigan State Chamber of Commerce, and The Center for Environmental Studies. He is an Honorary Member of the Michigan Engineering Society and life member of several technical societies. After retiring to Santa Fe, New Mexico he serves on a number of civic boards including: The Old Santa Fe Association, City Wastewater Reuse Advisory Task Force, Santa Fe Watershed Association, Santa Fe River Commission and Educate New Mexico.
Ted was a charter member of the Michigan Tech Civil and Environmental Engineering Professional Advisory Committee. Ted and his wife, Dora, have three children, one of whom, Steve, is also being inducted into the ACADEMY.
From 2002 Induction to the Civil and Environmental Engineering Academy