Robert J. Luther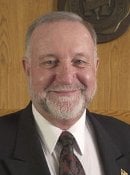 BS Civil Engineering 1961
Mr. Robert Luther is currently President and CEO of Construction Technology, Inc. of West Palm Beach, Florida. He completed his baccalaureate degree in civil engineering at Michigan Tech in 1961 and from there went on to work as an engineer for the State of California. In 1969 he joined Kaiser Aluminum & Chemical Corporation as a Plant Manager.
In 1983 he left Kaiser Corporation, where he was the Senior Field Engineer and District Sales Manager of Highway & Marine Products, to found his own company, Construction Technology, Inc. Con-Tech specializes in all phases of design and construction of marine complexes, seawalls, and other marine related projects. In 1989 his company was listed as one of the fastest growing, privately held companies in the US. The company has grown to be a full-service construction and engineering firm with a staff of over 40 employees.
Mr. Luther is a member of the National Society of Professional Engineers - Engineers in Construction, Florida Engineering Society, Associated General Contractors, and Aircraft Owners and Pilots Association. Bob, originally from Ironwood, Michigan, and his wife, Mary, have three adult children and six grandchildren and reside in West Palm Beach, Florida. Bob's oldest daughter, Theresa, is Con-Tech's Chief Financial Officer.
From 2002 Induction to the Civil and Environmental Engineering Academy