Richard H. Crannell, PE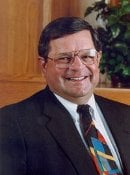 BS Civil Engineering 1965
Mr. Richard H. Crannell (RC) is President/CEO, R.C. Associates, Inc. of Saginaw, Michigan. Richard, a native of Saginaw, Michigan, earned his baccalaureate degree in civil engineering from Michigan Tech in 1965. Upon graduation, Crannell obtained a survey crew chief position with the Michigan Department of Transportation. Because of his education and eagerness to learn, RC quickly advanced to the role of an MDOT office engineer. In 1969, Crannell took a project engineering position with the City of Saginaw, where he further developed his engineering experience and expertise for over 10 years. RC also worked with Rowe Engineering in Caro, Michigan for a short period of time.
Currently, RC is President and CEO of RC Associates, Inc., a private A/E firm that he founded in 1978. RC Associates, Inc. employs over 90 full-time engineers, surveyors, architects, technicians, inspectors, and support staff whom provide a full spectrum of development and site rehabilitation and remediation services. The company is headquartered north of the Zilwaukee Bridge in Saginaw, Michigan with affiliate locations in Oscoda, Michigan and Arlington Heights, Illinois.
Crannell is a member of the American Society of Civil Engineers, National Society of Professional Engineers, Saginaw County Chamber of Commerce, and former member of the Board of Directors for the Saginaw Jaycees. He is a member of Michigan Tech's Gold Carpet Society, McNair Society, President's Society, and was a volunteer for the Civil and Environmental Engineering Department's Partnering with the Future Campaign. RC is an avid golfer and co-owner of The Sawmill Golf Club and Community located on M-47 in Saginaw. He has one child, Kelly Lynn, who is also a Michigan Tech civil engineering graduate ('93) and is a professional engineer working at RC Associates, Inc.
From 1999 Induction to the Civil and Environmental Engineering Academy