Phillip V. Frederickson, PE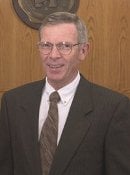 BS Civil Engineering 1960
Mr. Phillip V. Frederickson came to Michigan Tech from Alma, Michigan and earned a baccalaureate degree in civil engineering in 1960. He is Chairman-CEO of Christman Company of Lansing, a construction firm founded in 1894 that provides construction and program management, general contracting, design build, and real estate development services. Phil began his career with Christman Company as a project engineer in 1967. He advanced as project manager in 1971, vice-president in 1975, president and CEO in 1989, and Chairman-CEO in 2000. He has also been President of Christman Capitol Development Company since it was founded in 1996.
Phil is active in civic affairs and serves on the Board of Directors for several organizations including; Auto Owners Insurance Company, Michigan National Bank, and Delta Economic Development Corporation. He is past President of Michigan Associated General Contractors. Phil has also been active in his support of Michigan Tech and is a member of the Michigan Tech President's Society, and served on the Executive Council of the Civil and Environmental Engineering "Partnering with the Future" Campaign and is currently serving on our "Educating Graduates of Choice" Campaign Executive Committee.
While at Michigan Tech he participated in Chi Epsilon, Alpha Phi Omega, ROTC Army, and the Ski Club. He and his wife, Sylvia, have three sons and reside in Lansing, Michigan.
From 2001 Induction to the Civil and Environmental Engineering Academy