Paul B. Frair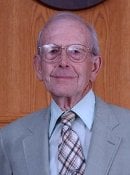 BS Civil Engineering 1950
Paul Frair, originally from Glens Falls, New York, completed a baccalaureate degree in civil engineering in 1950. Prior to attending Michigan Tech, Mr. Frair served for four years in the US Army. Following graduation he worked for Waggaman & Collyer, General Contractors of Glens Falls, as a construction engineer. In 1952, Mr. Frair joined Herman Gundlach, Inc. and worked in all phases of general building construction, later serving as Vice President of Operations. For the next 19 years Mr. Frair was involved in the construction of many Michigan Tech buildings; various UP mining facilities, and numerous structures of the Upper Peninsula Power Company.
In 1971 Mr. Frair became part-owner of A & H Builders, Inc. of Broomfield, Colorado and served as Vice President and Chief Estimator. A & H was primarily involved with the construction of some government facilities at the US Atomic Energy plant at Rocky Flats, the Bureau of Standards at Boulder, and the US Air Force facility at Cheyenne Mountain. A&H was also the contractor for the construction of two projects for the Bulgarian artist Christo, ie, "Rifle Gap Curtain" in Colorado and "Running Fence" in CA.
In 1978 Mr. Frair returned to Herman Gundlach, Inc. and served as the project superintendent for Michigan Tech's Student Development Complex. He stayed with Gundlach as the general manager of the Keweenaw Bay Tribal Construction Company until his retirement in 1988.
Mr. Frair is active in community affairs by helping with Rotary functions and serving on the Good Will Farm board. He also has an interest in local theater productions and performs with several singing groups. Paul and is wife, Audrey, have one son and three daughters and reside in the Houghton area.
From 2005 Induction to the Civil and Environmental Engineering Academy