Damoder Pati Reddy, PhD, PE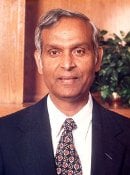 MS Civil Engineering 1962
Dr. Damoder "Pat" Reddy received his baccalaureate degree in civil engineering in 1958 from Osmania University in India. Subsequently, he served two years as a public works engineer. He enrolled in Michigan Tech's graduate school in 1960 and earned a masters degree in civil engineering in 1962.
He served on the Michigan Tech Civil Engineering Faculty as a structural engineering instructor from 1962-1963, as Director of the Digital Computing Center in 1964, and as an assistant professor of civil engineering from 1965 to 1969. He spent the 1966-67 year on leave at Northwestern University where he earned his Ph.D. in structural engineering.
Dr. Reddy joined Agbabian Associates in 1969. He is an expert in structural dynamics. He has completed numerous engineering studies and projects involving seismic analyses of buildings, dams, nuclear reactors, bridges and other structures. Among his seismic evaluation projects are: the San Gabriel Dam Outlet Tower, the Norris Concrete Gravity Dam, the Seventh Street Concrete Arch Bridge in Los Angeles, and the Rocky Flats Plutonium Plant. He has published several technical papers in international journals, given numerous presentations at engineering society meetings, and has taught earthquake engineering courses at the University of Southern California.
Dr. Reddy is a member of the Michigan Tech President's Club and served on the Executive Council of the Civil and Environmental Engineering "Partnering with the Future Campaign". Pat and his wife Soumitri have three children and reside in Rolling Hills, California.
From 1995 Induction to the Civil and Environmental Engineering Academy