Norman D. Witteveen, PE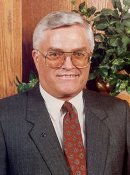 BS Civil Engineering 1961
A native of Holland, Michigan, Norm Witteveen received his baccalaureate degree in civil engineering from Michigan Tech in 1961. Following graduation, he worked as a highway engineer in California, South Dakota, and Michigan. Subsequently, he joined the Michigan Department of Aeronautics where he rose to Chief Airport Design Engineer.
In 1974, he began a distinguished airport consulting career, seventeen years with Greiner Engineering Inc., rising to Chief Airport Engineer and Vice-President. Key projects included the Master Plan and preliminary engineering for Hong Kong's new airport at Chek Lap Kok, now under construction, Manager of Design for the recently completed Denver International Airport, and major expansions at Tampa, Orlando, Cincinnati, Memphis and Detroit Metro Airports, and others too numerous to mention in the U.S., South America and Asia.
In 1994, Norm accepted his current position with the City and County of Denver as Deputy Director of Aviation in charge of Planning, Engineering, and Development. He is recognized as a world leader in airport development by several aviation and engineering organizations including the Federal Aviation Administration, the American Society of Civil Engineers (ASCE), the Transportation Research Board (TRB), and the Illuminating Engineering Society of North America (IES). He has been active in professional societies, serving on various airport committees with ASCE, TRB, IES, the American Association of Airport Executives and the Airports Council International. He is the author of numerous publications on airport planning and engineering and has made many presentations at seminars, universities and technical conferences. He has served on several Chamber of Commerce Committees on Transportation and Aviation, and is a Past Chair of the Florida Aviation Advisory Council. He is a visiting lecturer to several countries, including China. In 1996, he was the recipient of the Robert Honorjeff Award, given by ASCE for recognition of outstanding professional achievements and contributions in the field of air transportation engineering.
Norm and his wife Phillis live in Denver. His son and daughter-in-law are also graduates of Michigan Tech.
From 1996 Induction to the Civil and Environmental Engineering Academy