Bruce Lowing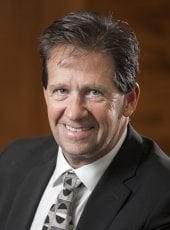 BS Civil Engineering 1980
Bruce Lowing is the former CEO and President of Hardman Construction, Inc., a heavy/highway contractor headquartered in Ludington, Michigan. After earning his Civil Engineering degree from Michigan Tech in 1980, Bruce worked as Project Manager & Estimator before becoming the President of the Company in 1993. Bruce led Hardman Construction's efforts into the bridge building industry in Michigan as well as the company's specialization in geotechnical construction.
Hardman Construction builds four to five bridges for the Michigan Department of Transportation on an annual basis, in addition to performing deep foundation and earth retention work for diverse project types, including industrial, commercial, higher education, power, stadiums, and more. Some recent project highlights for Bruce and the team at Hardman Construction include construction of the M-231 bypass bridge in Grand Haven and completing the earth retention work at the new Red Wings Arena in Detroit. Hardman Construction is owned and managed by Bruce Lowing, Todd Schrader, and Marty Gamble, all of whom share the connection of having graduated from Michigan Technological University.
Bruce most recently served as the President of the Michigan Infrastructure and Transportation Association (MITA) in 2011, in addition to being the President of the Michigan Road Builders Association (MRBA) in 2003 and the President of the Associated Underground Contractors of Michigan (AUC) in 1997. Bruce currently serves on the President's Advancement Council at Michigan Tech and previously served on the Michigan Tech Transportation Enterprise advisory board and in conjunction with Hardman Construction, Inc. has endowed a scholarship at Michigan Tech specifically designated for Mason County students. He also is a director of West Shore Bank in Ludington, Michigan.
Bruce and his wife, Julie, live in Ludington, where they are active in both their church and the community at large. Bruce and Julie enjoy travelling, visiting their three children around the country, and anything outdoors.