Lee E. Bernson, PE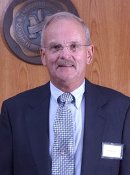 BS Civil Engineering 1965
Lee Bernson completed a baccalaureate degree in civil engineering in 1965. From there he worked as a Highway Engineer for the State of Colorado in Denver. In 1969 he was employed by Western Concrete Products Co. of Cadillac, Michigan and rose to the position of Executive Vice President. In 1976 he became co-owner of Mathisen Tree Farms, Inc. in Greenville, Michigan. Under his management, the Christmas tree and nursery stock business grew into major grower status with annual shipment of Christmas trees exceeding 200,000 units. Mr. Bernson is currently retired as owner/director of Mathisen Tree Farms, having sold the business in 1997.
Mr. Bernson is a registered Professional Engineer in Colorado and Michigan and is a past member of the American Society of Civil Engineers. While at Michigan Tech, he participated in intramural sports and was a member of the student chapter of the American Society of Civil Engineers.
Lee and his wife, Arleta, reside in Traverse City, Michigan. They have two children, Heather (Shane Force) and Zachary. Their son, Zachary, and daughter-in-law, Michelle (Sterett) Bernson, are both Michigan Tech mechanical engineering graduates, currently employed by The Boeing Company.
From 2005 Induction to the Civil and Environmental Engineering Academy