Kristen Mariuzza, PE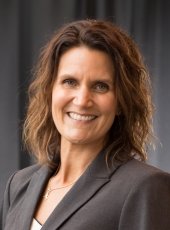 BS Environmental Engineering 1998
Kristen Mariuzza graduated from Michigan Tech in 1998 with her baccalaureate degree in environmental engineering. She is currently the Managing Director of Eagle Mine in western Marquette County, and is responsible for daily oversight of Eagle's 24/7 mining operation with 400 contractors and employees. Following graduation, she worked as an environmental consultant in northern Wisconsin prior to accepting a position with the Michigan Department of Environmental Quality (MDEQ). While at the MDEQ, she developed a passion for leadership in her field that has helped reshape Michigan's mining industry. During that time, she became MDEQ's Water Division mining specialist and held an integral role on the Michigan stakeholder advisory board that crafted new mining legislation.
Following her role at MDEQ, Kristen moved to the private sector as the HSE & Permitting Manager for Eagle Mine. She was responsible for health, safety, environmental permitting, and compliance activities during the clean-up of a historical milling operation, construction and commissioning of the new mine and mill facilities, and through early operations. Eagle Mine today is the only primary nickel mine in the US and is considered a model for modern mining.
As an influential leader in the mining industry, Kristen served on committees with the Mining Association of Canada and the Nickel Institute, served as an industry representative on environmental related task forces within the State of Michigan, and presented papers at national and international conferences. She also participated in a Michigan State University Natural Resources Leadership Academy, Operational Leadership Academy led by Duke University, Stakeholder Engagement Academy led by Georgetown University, and is a licensed professional engineer in the State of Michigan.