Kim M. Lobdell, PE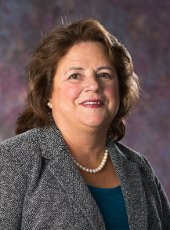 BS Civil Engineering 1979
Ms. Kim Lobdell completed her baccalaureate degree in civil engineering in 1979 at Michigan Tech and went on to earn a Master's in Business Administration from the University of Wyoming. She is currently the President of KL Engineering, a civil engineering firm with three offices in Wisconsin. The firm specializes in transportation engineering projects and has approximately 50 employees.
Kim began her professional career at General Motors but moved to Wyoming to work for a small civil engineering consulting firm. Upon returning to Wisconsin in 1987 she was with Mead & Hunt for four years before starting her own practice, KL Engineering, in 1991.
Lobdell is active in several professional organizations including: the Institute of Transportation Engineers, the National Society of Professional Engineers, Women's Transportation Seminar, and the American Council of Engineering Companies – Transportation Steering Committee. She is Vice President for the Engineer's Foundation of Wisconsin that awards scholarships to engineering students. She has been awarded the Engineer of the Year in Private Practice from Wisconsin Society of Professional Engineers and Woman of the Year by the Women's Transportation Seminar. She is also active in civic affairs as the Chair of the City of Fitchburg Transportation and Transit Commission, the Fitchburg Chamber of Commerce, and Girl Scouts of Badgerland Council.
Kim and her husband, Alan, reside in Fitchburg, Wisconsin and have two grown children. They enjoy traveling and many outdoor activities at their cottage in northern Wisconsin.
From 2015 Induction to the Civil and Environmental Engineering Academy