James A. Keighley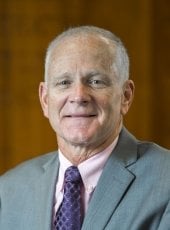 BS Civil Engineering 1976
James A. Keighley completed his baccalaureate degree in Civil Engineering at Michigan Tech in 1976. He went on to join Procter & Gamble at their Cheboygan Michigan Plant as a Project Engineer. During his career with P&G, he and his family lived in Cheboygan, Cape Girardeau, Cincinnati, and Boston. He retired from P&G as Director of Engineering and Technology for P&G's Boston based Gillette shaving business in 2013. Immediately upon retirement, he was asked to join Kraft Foods as Vice President of Engineering working from their suburban Chicago headquarters. He retired from Kraft in 2015, 10 months after Kraft was acquired by 3G/Heinz.
While at P&G, Jim worked on numerous consumer product for the Pampers, Tampax, and Gillette businesses all over the world. He is an inventor on six patents for different aspects of product & process design including an adaptation of industrial microwave drying technology to pre-condition a fluid absorbing core. Jim led the Engineering effort to create the production system for Tampax Pearl. Pearl is now the #1 seller in the United States.
At Kraft, Jim was responsible for the Engineering & Maintenance functions across all business units. A major focus of his work there was integrating Lean Six Sigma into those existing cultures. Vertical start up performance on capital projects at Kraft went from 25% to 80% during his time at Kraft.
Today, Jim serves on Engineering Advisory Boards for Lake Superior State, Worcester Polytechnic Institute, and Michigan Tech. He has also guest lectured at those schools plus and University of Illinois. He has been involved with the creation of the Center for Advanced Research in Drying – a joint project with WPI, U of I, and the NSF.
Jim and his wife Diane currently reside in the Les Cheneaux Islands in the Eastern Upper Peninsula of Michigan where he serves on several local boards and commissions. They have two sons and three grandchildren. In addition to guest lecturing at Universities, Jim's passions include cross country skiing, fishing, and working on/showing his 1970 Karman Ghia convertible and 1950 Chris-craft U-22.