Joseph M. Post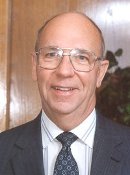 BS Civil Engineering 1950
Mr. Joseph M. Post, a 1950 civil engineering graduate of Michigan Tech, is Retired President and CEO of Roberts Sinto Corporation of Lansing, Michigan. Upon graduation, he became a resident engineer with J. and G. Daverman Company in Grand Rapids, Michigan. In 1953, he joined the Planet Corporation of Lansing advancing from project engineer to sales engineer to division sales manager.
He joined Roberts Corporation in Lansing in 1964, serving as vice president of sales, executive vice president, and president and CEO. In 1989, Roberts Corporation became Roberts Sinto Corporation, and Mr. Post served as its president and CEO until his retirement in 1991. Mr. Post has served as the president of the Sales and Marketing Executives of Lansing and a president of the Casting Industry Suppliers Association.
In long time support of Michigan Tech, he has served as the president of Michigan Tech's Central Michigan Alumni Chapter, is a Life Trustee of the Michigan Tech Fund, and is a member of the President's Club, the Second Century Society, and the McNair Society. He is active in community affairs serving as treasurer for Habitat for Humanity, director of the Delta Township Economic Development Corporation, and vice president of his church council.
From 1994 Induction to the Civil and Environmental Engineering Academy