John E. Paas, PE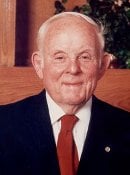 BS Civil Engineering 1941
Mr. John E. Paas came to Michigan Tech from Grand Rapids Catholic Central High School and earned his baccalaureate degree in civil engineering in 1941. During his student years, he served as Steward of Kappa Delta Psi, as Treasurer of Blue Key and was involved in winter carnival, the Flying Huskies, ROTC, ASCE and other groups.
Following graduation, he enlisted in the U.S. Army Air Corps Flying Cadet Program, was commissioned as a second lieutenant, and subsequently became Squadron Commander and Group Commanding Officer. He was released from active duty in 1945 and remained in the reserves where he holds the rank of Lt. Colonel (retired). He joined Owen-Ames-Kimball in 1945 as a construction engineer and became job superintendent and general superintendent on several major projects. Among his projects were: the Aquinas College Science Building, the Coopersville General Motors Plant, the Grand Rapids Convention and Entertainment Center, and the Gerald R. Ford Museum. He was appointed to the Owen-Ames-Kimball Board of Directors and later served as Vice President of the Company until his retirement in 1982.
John served as a Director of the Grand Rapids Engineer's Club; as President of the Grand Rapids Chapter of the Professional Engineers' Society; as a director of the Michigan Society of Professional Engineers; and, in 1982, was recognized as Michigan Construction Engineer of the Year. He is active in his church and in several other civic organizations. John is a member of the Michigan Tech Dean's Club and served as a volunteer for the Michigan Tech Century II Campaign. John and his wife, Winifred, have five children and reside in Grand Rapids. Their son, Thomas, is a 1971 mechanical engineering graduate of Michigan Tech.
From 1995 Induction to the Civil and Environmental Engineering Academy