John Haro, FAIA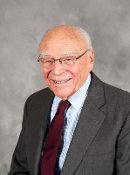 John Haro, originally from Pelkie, Michigan, came to Michigan Tech in 1945 and completed two years in the civil engineering program. He found the years at Michigan Tech significant in broadening his vision and disciplining his approach to problem solving. He credits Wilfred Polkinghorne, a Professor of Civil Engineering, with encouraging his interest in architecture. He transferred to complete a Bachelor of Architecture from the University of Michigan in 1950. After serving in U.S. Navy during the Korean War, he went on to earn a Master of Architecture at the Harvard University Graduate School of Design in 1955.
Mr. Haro worked in Detroit as an architect for 38 years, 30 of them with Albert Kahn Associates, Inc. He retired as Senior Vice President in 1990. Throughout his career he has always tried to strengthen the bond between the engineer and the architect, to foster the mutual interest and effectively collaborate.
He was elected as a Fellow of the American Institute of Architects in 1968 and has served in leadership positions in the Detroit Chapter, including Board of Directors and committee chairs. He is a registered Professional Architect in Michigan and NCARB. He was awarded the Gold Medal from the Michigan Society of Architects in 1984 and numerous design awards from the Michigan Society of Architects and Detroit Chapter of the American Institute of Architects.
John has continued working in the field of architecture as a private practitioner and is currently assisting the Civil and Environmental Engineering Department with developing a vision for a new building. He and his wife, Elizabeth, split their time between Scottsdale, Arizona and Houghton. They have two sons and one daughter.
From 2011 Induction to the Civil and Environmental Engineering Academy