Jerold B. Van Faasen, PE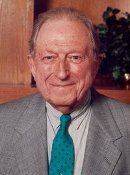 BS Civil Engineering 1934
Mr. Jerold B. Van Faasen came to Michigan Tech from Holland, Michigan and earned his baccalaureate degree in civil engineering with honor and at the top of his class in 1934. Following graduation, Jerry joined the U.S. Army Corps of Engineers in 1935 working on the construction of the Fort Peck Dam, the largest hydraulic fill dam on the Missouri River. This began his thirty-eight years of distinguished service with the Corps. After involvement with the war military construction program during 1942, Jerry volunteered for active duty with the Navy's Civil Engineer Corps and served with the 109th NCB in the Central Pacific. Following the war, Jerry continued his career with the Army Corps of Engineers.
As one of the Corp's outstanding resident engineers, he directly supervised the construction of many noteworthy military and civil projects in the Pacific Northwest. Among his projects were: Glasgow Air Force Base, Montana; Fairchild Air Force Base, Washington; several marinas and breakwaters in Puget Sound and the Pacific Ocean; and supervision of flood recovery work in the Harrisburg, Pennsylvania area in 1972 following tropical storm Agnes. After his retirement from the Corps in 1973, Jerry joined Will Construction Company in Everett, Washington as a part-time construction administration consultant. He continues this activity at the present time.
Mr. Van Faasen is a member of the Michigan Tech President's Club and served on the Executive Council of the Civil and Environmental Engineering "Partnering with the Future" Campaign. He is a fellow of ASCE, a member of the Society of American Military Engineers, the Seattle Engineer's Club, and several civic organizations. Jerold and his wife, Ruth, have three daughters and live in Seattle.
From 1995 Induction to the Civil and Environmental Engineering Academy