Gary G. Holcombe, PE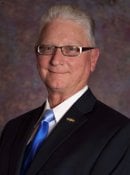 BS Civil Engineering 1972
Gary Holcombe completed his baccalaureate degree in civil engineering in 1972. He started his career as an Assistant Engineer with Richards, Findorff and Richards and in 1973 joined Gourdie-Fraser and Associates of Traverse City. Over the eight years he was with the company, he moved up from Assistant Project Engineer to be Director of Engineering. In 1981 he became a Partner with Elmer's Inc., a heavy equipment contractor and full-service engineering and surveying company whose main office is in Traverse City. He has served in various roles for the company, including Director of Engineering from 1983-2007 and currently is the Director of Cranes and Rigging Services. Team Elmer's has grown to over 420 employees in 13 locations throughout Michigan and currently provides earth moving, pipe installation, crane and rigging services, asphalt paving, concrete production, aggregate production, trucking and more.
Mr. Holcombe served in the US Army Reserve for six years after completing his degree. He is a Professional Engineer in Michigan and the US Virgin Islands and also is a licensed residential builder. Gary has five adult children and lives with his wife, Diana, in Traverse City.
This profile originally appeared in the 2013 Civil and Environmental Engineering academy induction.