Helmuth Wilden, PE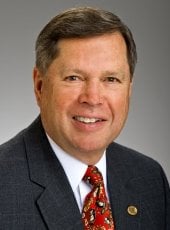 BS Civil Engineering 1965
Mr. Helmuth Wilden earned a baccalaureate degree in civil engineering in 1965. After retiring from H. Wilden & Associates (HWA), a Specialty Engineering firm he founded in 1978, in 2004 he started Wilden Enterprises, Inc. offering engineering services to the precast/prestressed concrete industry. Prior to forming HWA, Wilden works as a structural engineer for a few companies in the precast industry. He served as Vice-President of Universal Concrete Products Corp., General Manager for Thomas Hanson & Associates and Chief Engineer for Formigli Corporation, a precast pioneer in the early 1970's.
Helm has been very active in several professional organizations. During the past forty-five years he has served on many roles with the Precast/Prestressed Concrete Institute including Professional Member Director, Chairman of the Technical Activities Council, Chairman of the Research & Development Council and Chairman of the Educational Activities Council. He also served as Chairman of the committee that developed the 4th Edition of the PCI Design Handbook and as technical editor of the 7th and 8th editions. He became a founding PCI Fellow in 1994, a PCI Titan in 2004 and received PCI's most prestigious award, the PCI Medal of Honor in 2010. In 2016, Helm was honored again by PCI with the Norman L. Scott Professional Engineer Award.
Helm is also a member of the American Concrete Institute, the National Society of Professional Engineers, and the American Society of Civil Engineers.
At Michigan Tech, he was honored into Chi Epsilon and Tau Beta Pi, two honorary engineering fraternities. In 1999, Helm was inducted into the Michigan Tech Civil and Environmental Engineering Academy.
Over the years, Helm has volunteered some of his time to charitable organizations including the March of Dimes in the Lehigh Valley of Pennsylvania and 2nd Helpings and Habitat for Humanity in Hilton Head. As of 2018, Helm is semi-retired and enjoying life with his wife Mary Lou of 53 years in Hilton Head. They have three adult children and six grandchildren.