Harland Couillard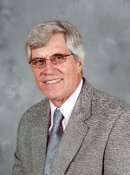 BS Civil Engineering 1975
Harland Couillard completed his baccalaureate degree in civil engineering at Michigan Tech in 1975. Following graduation he joined Upper Peninsula Concrete Pipe Company as a production engineer. He presently serves there as Vice President and Senior Engineer. He also serves as Vice President of U.P. Rubber Company and Vice President of Little Bay Concrete Company, a subsidiary of U.P. Concrete Pipe Company. He has 36 years of experience in the precast industry and has supervised the production of approximately 87 arch bridges and 200 box culvert bridges along with storm and sanitary sewer systems for most of the municipalities and highway projects in the Upper Peninsula. He has also provided 25 years of technical support to the construction industry in the installation of underground piping.
His professional affiliations include: American Concrete Pipe Association, Concrete Pipe Association of Michigan, American Society of Civil Engineers, American Waterworks Association, American Society of Testing & Material C13 Committee member, and is President of the UP Distributors Association.
Harland has been an outstanding supporter of the Department for over 20 years. He donates his time and expertise each year to sponsor a concrete pipe workshop for students in the Civil and Environmental Engineering Department. He is also a past member of the Civil and Environmental Engineering Professional Advisory Committee serving the Department in this capacity for six years. He is presently a board member of the UP Road Builders and serves on their Michigan Tech Scholarship Committee.
From 2011 Induction to the Civil and Environmental Engineering Academy