Eric Peterson, PE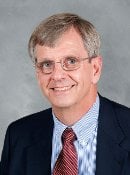 BS Civil Engineering 1970
MS Business Administration 1971
Eric Peterson, originally from Detroit, completed his baccalaureate degree in civil engineering at Michigan Tech in 1970 and went on to earn a master's in business administration in 1971. Following graduation Mr. Peterson focused his career in the railroad industry, the majority of it with CSX Transportation. After joining the company in 1974 as an Assistant Division Engineer, he rose through the managerial levels including Manager of Engineering and General Manager of Signal Engineering. One of his major projects was rebuilding the railroad corridor between Chicago and Cleveland to increase capacity and train speeds. He was promoted to Assistant Chief Engineer of Signal Design and Construction in 1998 and later to Assistant Chief Engineer of Public Projects before retiring in 2008.
During his tenure with CSX, Mr. Peterson received several awards including: the award for Best Engineering Division-Safety (1985), Fourteen Commandments Award for Willard Hump Fire Recovery (1996), and Federal Railroad Administration Award for Injury Performance (2002). Mr. Peterson has also been very active with the American Railway Engineering and Maintenance-of-Way Association serving in many leadership positions including: Board of Directors (1999-2003), Chairman of Conference Operating Committee (1982-1997), and has been a member of several committees. He is also a member of the American Society of Civil Engineers, and the National Society of Professional Engineers. He is a registered Professional Engineer in the State of Michigan.
Eric has provided support in establishing the railroad engineering program at Michigan Tech. He has assisted in classroom instruction and discussions as well as promoting recruiting and support from CSX Transportation. He also served for 17 years on the Advisory Council for the University of North Florida. Eric and his wife, Pat, reside in Jacksonville, Florida, they have three adult children and seven grandchildren.