Douglas M. Watson, PE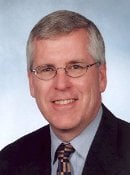 BS Civil Engineering 1973
Mr. Douglas Watson completed his baccalaureate degree in civil engineering with honors in 1973. Immediately after graduation, Doug joined the consulting firm of Wade-Trim. In his twenty-eight years with the firm, he has worked as a construction inspector, surveyor, design engineer, project and client manager, and has held various administrative management positions. Doug is currently President and Chief Executive officer of Wade-Trim, overseeing a 500-person staff in ten offices.
Professionally, Doug is active in several associations including; past President of Consulting Engineers Council of Michigan, a member of the American Consulting Engineers Council National Procurement Committee, and a member of the Steering Committee of the American Infrastructure Consortium at the Massachusetts Institute of Technology.
In recent years, Doug has had an active role in the Civil and Environmental Engineering Department and recently completed two terms of service on our Professional Advisory Committee, a portion of that as Chair of the committee. He is also serving on the Department's Campaign Executive Committee for 'Educating Graduates of Choice'. Doug and his wife, Jackie, live in Plymouth, Michigan. They have two adult daughters and are the proud grandparents of a new grandson. Their daughter, Carolyn, recently graduated from Michigan Tech with a baccalaureate degree in Clinical Laboratory Science.
From 2001 Induction to the Civil and Environmental Engineering Academy