Donald L. Holley, PE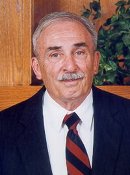 BS Civil Engineering 1953
Donald L. Holley, earned a baccalaureate degree in civil engineering from Michigan Tech with honor in 1953 and was awarded a masters degree in (sanitary) civil engineering from the University of Michigan in 1959. He is the retired President of Capital Consultants of Lansing. Prior to attending Michigan Tech, Don attended the Engineer School at Fort Belvoir, Virginia and served in the U.S. Army Corps of Engineers. At Michigan Tech he was active in the ASCE student chapter, Chi Epsilon, and Tau Beta Pi.
Upon receiving his baccalaureate degree, he worked as a Design Engineer and Project Manager for Ayres, Lewis, Norris, & May of Ann Arbor, Michigan. In 1966 he co-founded Capital Consultants Inc. of Lansing, Michigan and served as President and General Manager until 1990. Throughout his professional career, Don has been involved with many major municipal water and wastewater improvement projects in Michigan. He is currently retired from Capital Consultants and is in private practice as a civil and environmental consultant.
Mr. Holley is a Fellow and Life Member of ASCE, and also a Life Member of the American Water Works Association, and of the Water Pollution Control Federation. He is also a Diplomate of the American Academy of Environmental Engineers. Don was a member of the Michigan Tech Dean's Club and he served as a Century II Campaign Volunteer. Don and his wife, Shirley, live in Pentwater, Michigan and have four children.
From 1997 Induction to the Civil and Environmental Engineering Academy