David I. Matson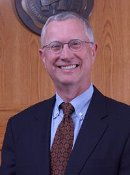 BS Civil Engineering 1969
David Matson is Vice Chairman and Chief Financial Officer for UnionBanCal Corporation and Union Bank of California. He earned two baccalaureate degrees, one in civil engineering and the other in engineering administration from Michigan Tech in 1969 and completed a Master of Business Administration degree is from Western Michigan University in 1970. Mr. Matson has more than twenty-eight years of experience with Union Bank and its predecessors. He began his career with the bank in 1976 as manager of the bank's equipment leasing function and has held a number of management positions of increasing responsibility in both line and staff functions.
Based in San Francisco, UnionBanCal Corporation is a bank holding company with assets of $48.1 billion. As Vice Chairman and Chief Financial Officer, Mr. Matson manages the bank's financial functions, which provide the financial leadership and support to the bank and its holding company. Mr. Matson is also a member of the company's executive management committee.
Mr. Matson is a trustee of the Michigan Tech Fund and serves on Michigan Tech's School of Business National Advisory Board. While at Michigan Tech he was a member of the Kappa Delta Psi fraternity. He resides in San Francisco with his wife, Maria, and their son, Greg.
From 2005 Induction to the Civil and Environmental Engineering Academy