Brenda O'Brien, PE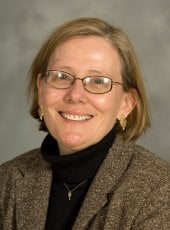 BS Civil Engineering 1984
Brenda O'Brien, originally from Iron Mountain, Michigan completed her baccalaureate degree in civil engineering at Michigan Tech in 1984. As a non-traditional student and single parent of two small children, the path she followed to complete her degree was steeper than most.
Ms. O'Brien started her civil engineering career with MHM Associated, Inc., a structural engineering consulting firm in Indiana. She joined the Michigan Department of Transportation in 1988 as a transportation engineer.
She served on the statewide planning team that developed the concept of Transportation Service Centers and became one of the first three center managers in the State with a staff of approximately 50 people.
Currently she is the Engineer of Construction and Technology for MDOT with a staff of approximately 130 people. In this position, she is responsible for statewide operations of the construction, materials, and pavement/bridge management programs, the development of policy, standards and practices to provide quality assurance, and the development of specifications, manuals and training related construction administration and materials testing.
Ms. O'Brien is a licensed Professional Engineer in the State of Michigan, is active in the American Association of State Highway and Transportation Officials, and recently completed a master's degree in mathematics at Eastern Michigan University. Brenda is also a member of Michigan Tech's Presidential Council of Alumnae and serves on the departmental Transportation Enterprise Advisory Board. She and her husband, Ron, reside in Williamston, Michigan.