Annette Gardiner, PE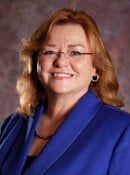 BS Civil Engineering 1982
Ms. Gardiner completed her baccalaureate degree in civil engineering at Michigan Tech in 1982 and an Executive Master of Business Administration from Michigan State in 2003.She is currently the President New Mexico Gas Company, a newly formed natural gas utility. Taking over this role in 2008, she has been responsible for 750 employees serving 510,000 customers in 23 counties in New Mexico. In 2009 she successfully transitioned the company to a stand-alone utility while maintaining employee satisfaction and company profits.
Her career in the energy industry began in 1992 with Michigan Consolidated Gas Company in Detroit, Michigan. In 1995, she moved to Semco Energy Gas Company in Port Huron, Michigan where her career progressed to the Director of Engineering Services and went on to serve as Vice President of Technical Services in 2004. In 2006 she moved to the position of Vice President of Operations and was responsible for the Michigan operating systems for 280,000 customers and leading 200 employees.
Ms. Gardiner is a registered Professional Engineer in the State of Michigan and the State of New Mexico. She serves on the National American Gas Association as a Managing Committee Member and is on the Board of Directors for the Western Energy Institute and the Midwest Energy Association. Annette and her husband, Gregory, reside in Albuquerque.