The Bachelor of Science in Biomedical Engineering is at the intersection of engineering and biology. Help others through preserving and restoring health.
The discipline seeks to enhance the many facets of health care. Develop methods for repairing and replacing damaged or diseased organs. Measure the internal structures of the human body in health and in disease. Develop new diagnostic tools. Apply technology in other ways to make our lives healthier and safer.
My Story: Carolynn Que, MTUengineer

Working in the lab helped me understand my coursework better because I could relate it to real-life applications. And I'm a published author. I am a co-author on a paper published in Materialia with others in the works.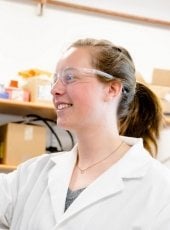 Tomorrow Needs a Focus on Living Systems
Biomedical engineers specialize in understanding living systems. Learn to predict the body's interactions with external materials or devices. The goal is to reduce the risk of adverse effects. Draw upon many engineering disciplines to solve complex problems. Be on the front lines of biology, medicine, and research and development:
Designing prostheses or artificial organs
Engineering cells to regenerate diseased or injured tissue
Developing new materials, such as stents, for implantation in the body
Conducting clinical trials of new medical devices
Combating disease with research
Building customized devices for unique health care or research needs
Collaborating with researchers and other health care professionals on medical solutions
Designing ergonomic equipment and workplaces
Engineering Enterprise Concentration
Pursue an Enterprise concentration as part of your degree by taking part in Michigan Tech's award-winning Enterprise Program. It's a great way to enhance your undergraduate degree with client-based teamwork. Enterprise is when students work in teams on real projects, with real clients, in an environment that's more like a business than a classroom. Choose any one of 20-plus Enterprise teams on campus to invent products, provide services, and pioneer solutions. Apply the skills learned in your major and gain some valuable new skills. Tackle real-world design projects for industry sponsors or take part in a national competition (or both). This concentration adds courses in business and entrepreneurship.