Frequently Asked Questions
1
Who is my graduate advisor?
Your advisor will be assigned upon admission to our graduate program. You will be notified via an admission letter from the Biomedical Engineering Department of your advisor assignment. Students may select a new advisor at any time by consent of the student and the advisor
2
What is the deadline for my application?
When applying to the PhD program, in order for students to be considered for support, the application deadline is January 15 for fall and July 1 for spring admission. Applications submitted after the deadline will be considered on a rolling basis but will not be considered for financial support.
There is no formal deadline for applications for admission to the Masters programs in BME. Applications are processed as they are received.
3
Can I be enrolled into your PhD program if I do not have a bachelor's degree in biomedical engineering?
Yes. However students from non-BME or non-engineering programs may need to take additional classes to fulfill the coursework requirement (see BME PhD Guidelines).
4
Will I receive an assistantship (TA, RA)?
Teaching assistantships will be awarded to the student when there is an opening and the student is highly qualified. Research assistantships are awarded through individual faculty members, so please contact the faculty member you wish to work for RA availability.
New graduate students will be notified via letter by April 1 if they will receive an assistantship for the upcoming semester. Students will have two weeks to accept or decline the offer.
5
Do I need to take the TOEFL? What is the TOEFL requirement?
The TOEFL test is the most widely respected English-language test in the world, recognized by more than 8,000 colleges, universities and agencies in more than 130 countries. All advanced degrees in the Department of Biomedical Engineering recommend a TOEFL score of 110iBT.
6
What is my GRE requirement?
While the recommended GRE scores are Verbal = 153, Quantitative = 165, Analytical = 3, program admission also depend on other factors including previous coursework and performance, previous research/industrial experience, recommendation letters, area of concentration and the department needs.
Advising Resources
GTA positions are usually only offered to students who have at least 12 MTU credits. All PhD students will be considered for a GTA position. The pool may open up to master's students if needed.
Required Center for Teaching and Learning CTL1 – Instructional Basics must be completed at least 2 weeks prior to the start of a GTA appointment. Department staff will arrange this for you.
The department coordinator will send a Graduate Teaching Assistant Information Form to PhD students prior to appointing TA assignments for the semester. This form will require students to list their qualifications.
Faculty will review the form and may interview students if necessary.
TA positions will be assigned 6 weeks prior to the semester.
1 week prior 1st day of class:

Instructor will provide and review the GTA teaching requirements and evaluation rubric.

At the end of TA assignment:

Instructor will provide the TA with results of the evaluation rubric.

GTA must pass teaching assignment with an overall assessment of "satisfactory".
If GTA teaching performance is not satisfactory the graduate student's committee will meet and recommend a remedy for the poor performance. Possibilities include, but are not limited to:

Taking another MTU course and receiving a determined grade
TA another course
Loss of future funding
Transferring from Master's to PhD
At times, a student pursuing a master's degree in biomedical engineering decides that they would like to increase their scope to pursue a PhD. A discussion should be held with the student's advisor prior to form submission. The advisor will indicate if they feel the student is prepared for the PhD program or if they recommend further courses, research, or other, before applying to the PhD program. If it is determined that the advisor recommends the student move into the PhD program, the student need only to fill out the D-1 Acceptance Form. (This form is located on the Graduate School website, under - Forms - Current Students - Special Purpose Forms).
The form must be approved by the department chair or BME graduate program director, then submitted to the Graduate School. The Graduate School will return a signed form to the student, and graduate program assistant of the department.
Self-assessment forms will be sent to students as a fillable PDF by office staff. Assessment forms must be completed electronically and cannot be filled out by hand. The following links are for preview purposes only.
Graduate School Resources
Opportunities
Primary Graduate Advisor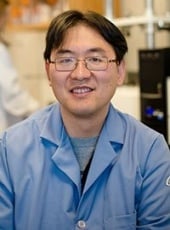 Professor, Biomedical Engineering
Graduate Program Director, Biomedical Engineering
Secondary Graduate Advisor
Associate Professor, Biomedical Engineering
Affiliated Associate Professor, Biological Sciences
Events