Josephine Zurica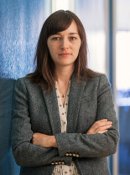 MS Environmental Engineering 2006
Josephine Zurica received her BS in Mechanical Engineering from Manhattan College, then went on to obtain her MS in Environmental Engineering at Michigan Tech in 2006. She joined Dagher Engineering in 2007 straight from a tour of duty with the Peace Corps in Panama. She rose rapidly in the firm, achieving the position of Principal in 2013, at the age of 34, and is currently involved in all aspects of running the 30-person engineering firm.
Zurica has been named the 2016 American Council of Engineering Companies of New York (ACEC New York) New Principal of the Year for her significant contributions in the form of ideas and service to the consulting engineering community. Zurica is the first building systems engineer—and only the second woman—to receive this honor, granted since 2001 to an ACEC New York member who has been a principal for less than five years.
Zurica's achievements include steering the LEED certification and commissioning process for more than 15 buildings throughout New York City and the Northeast, acting as principal engineer on the design of a geothermal system that services 14 buildings on Princeton University's campus, and providing critical leadership in the engineering design effort of the New York State Energy Research and Development Authority (NYSERDA) study on the feasibility of implementing Passive House standards on tall residential buildings in New York.
Her building systems design work on national and international projects has received highest honors for Engineering Excellence from ACEC New York, including A Blueprint for Passive Design for Aljamea-tus-Saifiyah, an educational facility in Nairobi, Kenya; and Beyond LEED to Net-Zero Buildings for the Housatonic River Museum in Pittsfield, Massachusetts.
Demonstrating her dedication to improving the world through engineering and sustainable design, Zurica is a member of Engineers Without Borders and has served as a mentor for high school students in the ACE Mentor Program of Greater New York. She is very active on ACEC New York's Metro Region Energy Code Committee, and is at the forefront in supporting the City of New York's implementation for the new energy code and achieving the City's goal of 80 percent carbon reduction by 2050.
Excerpted from a Dagher Engineering press release, June 9, 2016