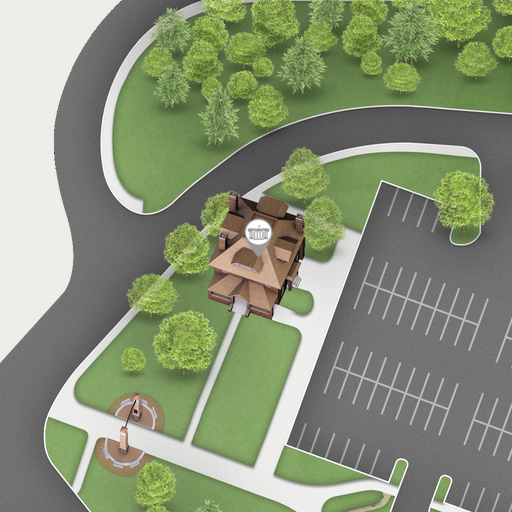 Stop by and visit us when you are on campus!
Relax, check out the Michigan Tech yearbooks, and learn more about how you can get connected to former classmates.
History of the Alumni House
The house was built in 1916 by Dr. Rudolf J. Maas who was the doctor for Franklin Mining Co. It was majestic in its day, involving decorators from Duluth, Minnesota, were commissioned to do the interior Although it cost $45,000 to build, that wasn't unusually high as the property it stands on was considered prime residential due to its location next to the University and it being on flat land.
The house was majestic in its day. Dr. Maas had eight children who filled four bedrooms on the second floor and two on the third. The house also consisted of a living room, dining room, kitchen, den, music room, sun room, two part powder room, entry hall with circular staircases, three bathrooms, a large sitting room on the second floor and four large storage closets. There was also a two car garage with basement section. In addition to being the doctor for Franklin Mining Co., Dr Maas also had a private practice in his home. One wonders at the people traffic there must have been as the residence basement also contained a ballroom where many parties were given. The property was graced by maple, locust, spruce, hemlock and cedar trees, with peony and rhubarb gardens also found.
The home was eventually bought for $8,500 in 1939 by Albert W Quandt whose family later sold to the University in 1961 for use as a residence for University Presidents.
Michigan Tech's fifth president, Dr. J. Robert Van Pelt '22 and his family, lived in the house was until his retirement in 1965 when President Raymond Smith and his family moved into the house, residing there until his retirement in 1979.
It became the Alumni House in 1980 and was the home of the Michigan Tech Alumni Association, Michigan Tech Student Foundation, Michigan Tech Fund and Corporate Development. At one time, the Michigan Tech Employees Federal Credit Union was located in the basement.
When these offices relocated in the fall of 1997, the building was used to house a variety of Student Affairs departments including Youth Programs, Institutional Diversity and Multicultural Affairs.
In fall of 2010, the Alumni House was extensively renovated and once again became the home of the Alumni Association, Michigan Tech Student Foundation, the Alumni Engagement office and the University Marketing and Communications Web Team. In 2015, when the UMC Web Team were relocated, the Annual Giving team including the TechLine student calling center moved into the House.