Andrew Shaud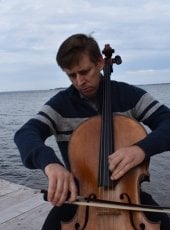 Contact
Cello Instructor, Visual and Performing Arts
Biography
Andrew is the Executive Director of the Copper Country Suzuki Association. He is the CCSA's cello instructor as well as the Conductor of the Keweenaw Youth Symphony Orchestra.
As a performer, Andrew has played with the Keweenaw Symphony, Baltimore Symphony, Maryland Symphony and Gettysburg Symphony Orchestras. He has performed recitals in Baltimore, Boston and Cicero, NY.
Andrew teaches students of all ages and abilities, in his studio. His students have played in Baltimore and Howard County All-County Orchestras, the Baltimore Symphony's Side-by-Side Concert, Maryland's All-State Orchestra and all levels of the Baltimore Symphony Youth Orchestra.
In addition to teaching private lessons, Andrew taught at the Baltimore Talent Education Center for 11 years. Prior to moving to Michigan's Upper Peninsula, Andrew was the Director of the Upper School String Orchestra and Middle and Lower School String Ensembles at the McDonogh School in Owings Mills, Maryland.