Robert Miller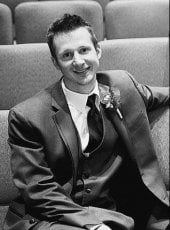 Contact
Trumpet Instructor, Visual and Performing Arts
Biography
Robert Miller is originally from Grand Rapids, Michigan. While attending college in Rochester, New York, received many performance opportunities and was recorded on an album with Pianist Michael Landrum. Back in Grand Rapids, Michigan, Robert continued performing, had a private trumpet studio, and was actively teaching in a few schools in the area.
Robert has been a participating member in the International Trumpet Guild and Grand Valley State University's International Trumpet Seminars. Other influential events include the International Music Curs Vila de L'Olleria (Spain), Rodney Mack Philadelphia Big Brass International Seminar, working personally with the following teachers: Dr. Karl Sievers, Rex Richardson, Allen Vizzutti, Vincent DiMartino, Adam Rapa, Jean Moorehead Libs, Andrea Tofanelli, Brandon Ridenour, Achilles Liarmakopoulos, Rodney Marsalis, Master Gunnery Sergeant Kurt Dupui, Manu Mellaerts, Jose Chafer, Slawomir Cichor, Matthais Kamps, Dorival Puccini and others.
Primary teachers include; Charley Lea (Grand Rapids Symphony), Dr. Paul Shewan (Rochester Philharmonic Orchestra & RWC Faculty), Richard Stoelzel (McGill Conservatory), and Robert White (WMU). Over the years Robert has been able to perform with different Middle School, High School, and College ensembles as a trumpet soloist, as well as perform in churches, bands, orchestras, musicals, and dramas at various levels.
Robert is the Band Director at Lake Linden-Hubbell Public Schools and has participated in various performances throughout the copper country including at Bethany Baptist Church, the Calumet Theatre, and with the Keweenaw Symphony Orchestra. He is the trumpet instructor at Michigan Tech. A few highlighted things Robert also enjoys include travelling and exploring, being outside, any activity on the water, backpacking, and mountain biking.