Adam Meckler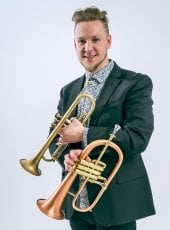 "Traveler, there is no road. A road is made by walking."
Associate Professor, Visual and Performing Arts
Director of Jazz Studies
MM, University of Minnesota
BM, Lawrence University
Biography
Adam Meckler joined the faculty at Michigan Tech Fall of 2019 after a decade-long career as a freelance trumpeter, composer, and educator based in Minneapolis, MN. While based in MN, he held faculty positions at McNally Smith College of Music, Macalester College, MCTC, and MacPhail Center For Music.
Meckler is an Edwards Instrument Co. Performing Artist and Clinician, and leads The Adam Meckler Orchestra (AMO), an 18 piece big band that plays his original compositions. The AMO's debut album 'When the Clouds Look Like This' was listed among 2014's Best Jazz Releases by iTunes. Adam tours and records with The Hornheads (Prince), Youngblood Brass Band, and Nooky Jones, and plays regularly with his wife, vocalist/flautist Jana Nyberg. With the Hornheads, Meckler has appeared on recordings by Michael Jackson, and Cory Wong (Vulfpek). Frequently commissioned to write new works for big band, Meckler is also a top-call trumpeter, and has performed with artists such as the The Temptations, The Four Tops, Andre Cymone (Prince), Cory Wong (Vulfpek), and Justin Robinson (Roy Hargrove Quintet). With the JazzMN Orchestra, Meckler has backed artists such as Maria Schneider and Wycliffe Gordon. The Adam Meckler Orchestra's latest release 'Magnificent Madness' features Emmy Award winning hip hop artist Toki Wright, Grammy Award winning gospel vocalist J.D. Steele, rising Neo Soul star Cameron Kinghorn, multi-instrumentalist/emcee Harjinder, and international trumpet soloist Rex Richardson. 'Magnificent Madness' is available now via Ropeadope Sur Records, and on all streaming platforms.
"In 2019, when young jazz musicians are both better-trained and more open-minded than they've ever been, plenty of small groups are doing inspired work by melding disparate influences.
But Magnificent Madness, the new Ropeadope Sur release from the Adam Meckler Orchestra, is something different, something greater: a thrillingly contemporary update of the jazz big band that both embodies Meckler's musical generation and showcases his singular vision (not to mention his masterfully expressive trumpet playing). Fun yet moving, hard-grooving yet also poignant, Magnificent Madness highlights the working musicians on the thriving Twin Cities scene while featuring special guests like the multi-instrumentalist and singer/emcee Harjinder; J.D. Steele, part of the Minnesota-based royal vocal family the Steeles; the emcee and Berklee educator Toki Wright; the nonpareil trumpet soloist Rex Richardson; and Cameron Kinghorn, the lead vocalist in the rising neo-soul band Nooky Jones, which he cofounded with Meckler and drummer Reid Kennedy.
In the end, Meckler's concept invites new listeners into the big-band tradition as he redefines that legacy on his own terms."
Links of Interest