Josh Loar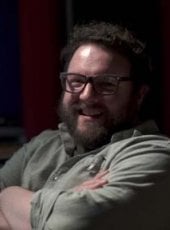 Professor of Practice, Visual and Performing Arts
BA Theater, UCLA
Degree in Audio Technology, SAE Institute NYC
Biography
Josh Loar is a Sound, Lighting, Video, and Multimedia/Control Designer and Engineer who has designed systems and content for clients worldwide including theaters, multimedia performance venues, nightclubs, concert festivals, theme parks, corporate events and more. He is the author of The Sound System Design Primer, a textbook on the fundamentals of sound system design, published in 2019 by Routledge/Focal Press.
He is also a multi-instrumentalist, composer, and producer, whose work has been heard on records, in theater, film and television, and on the web (and has been written about in such publications as Rolling Stone, Fluxblog, and others). He has played drums and percussion since the age of 8, and taught drums since the age of 18. He is the founder and head of Electric Lights Music, a full-service sound/music production studio and record label. He taught Sound Design and Engineering at the Yale School of Drama for three years, where he oversaw all audio production and design for the School and Yale Repertory Theater. He was the founding Technical Director and Head Sound Systems and FOH Mix Engineer at Le Poisson Rouge, NYC, and was the Head Engineer and TD for Galapagos Art Space and Carroll Music NYC. He has mixed live (and produced live recordings for) artists including: Mos Def, Rickie Lee Jones, Paul Simon, Charlie Haden, Philip Glass, and many more. He serves as a consultant for large-scale entertainment designs, working for companies including Walters-Storyk Design Group, Technical Multimedia Design Inc, It's Alive Co, and more (for clients including Walt Disney Imagineering, Hettema Group, Lotte Group, etc). Additionally, he is a director, writer, multimedia/installation artist, and painter--his films have been shown at venues such as Anthology Film Archives in NYC; Galapagos Art Space in Brooklyn held an exhibit of his paintings; his dramatic writing has been staged in Los Angeles and elsewhere, and his journalism and opinion writing has been published in the Reykjavik Grapevine, Mother Thunder, and elsewhere.
Education: BA-Theater: UCLA; Degree in Audio Technology: SAE Institute NYC (graduated top of his class at SAE, and just won 2013 Alumni Award for Outstanding Achievement in Live Sound for his work designing and engineering large-scale entertainment systems).
Links of Interest
Specialties/Activities
Sound Systems Design and Engineering
Multimedia Production and Control Systems Design and Consultation
Production Management, Technical Direction
Stage Direction
Film and Video Production and Post-Production
Lighting Design
Video/Projection Design
Drums/Percussion
Acoustics and Acoustic/Soundsystem Modeling
Technical Drawing