Roger Held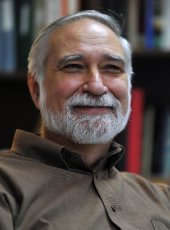 Contact
Cell: 906-281-1982
Email or call for appointment
Professor, Visual and Performing Arts
PhD, Bowling Green State University
MA Theatre, University of Michigan
Biography
First, the Arts serve an important function, Dr. Held says. They meet our psychological needs as human critters and teach us survival skills for navigating through a life in our culture. As such, they are extremely important to our quality of life and to our personal development. Consequently, schools and universities, both the repositories of our cultural history and the mechanisms for cultural evolution, are called upon to provide strong and inclusive arts programs.
He attended the University of Toledo as an undergraduate where he studied theatre, worked for the Toledo Museum of Art, and wrote his senior thesis in the Philosophy Department. He completed a master's degree in Theatre at the University of Michigan, and he worked as the lighting designer for U of M television and the opera program. After returning from tours in Europe and the Far East with Uncle Sam, he entered the doctoral program at Bowling Green State University. He received both an instructional and a research grant form the Graduate School and one of two Research Fellowships in Theatre. UMI Research Press published his dissertation on Fredrick Kiesler's Theory and Art.
His first administrative post was Chair of the Arts Division of Elmira College. Subsequently, he became Executive Artistic Director for the Robidoux Resident Theatre (RRT), Head of the Directing and Playwriting program, and Director of Utah Playfest at Utah State University, Director of Theatre at the University of Louisiana Monroe and Head of the Theatre program at Northwestern State University. He received the Mayor's Arts Award while with RRT for the New Play Development Program Development, the Distinguished Theatre Educator Award form the American College Theatre Festival Region VIII, and the Service to the Arts Award from the Northwest Louisiana Arts Council. His instructional series, Playing Period, published by Theatre Arts Video Library, is now available on DVD. In 2006, he was elected to the Arkansas Educational Theatre Association's Hall of Fame for work in founding a scholarship program which resulted in $1,000,000 of opportunities for Arkansas students.
As an artist, he has worked on more than one-hundred-fifty productions in a wide range of genres and styles. He enjoys working most on new plays and serious drama based on character and ideas. He often seeks to integrate media into productions and use various technologies to enhance a production. Nonetheless, he says, "Nothing replaces the trained, smart, and articulate actor in delivering a keen and evocative understanding of the play."
Links of Interest
Specialties/Activities
Directing
Acting: Period Styles
History and Literature
Leadership and Management
Play Writing