Lisa Gordillo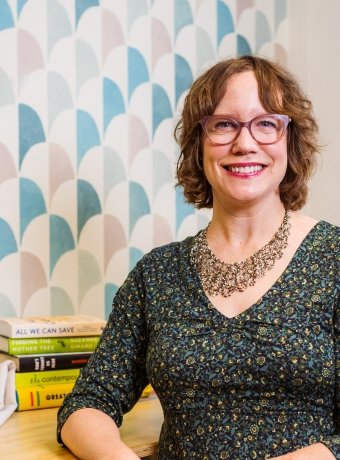 "It's not art unless it has the potential to be a disaster."
—Banksy
Contact

Associate Chair, Visual and Performing Arts
Associate Professor, Visual and Performing Arts
Artist-in-Residence, College of Forest Resources and Environmental Sciences
MFA, Sculpture, The University of Iowa
BA, Theatre Arts, Virginia Tech
BA, English, Virginia Tech
Biography
Lisa Gordillo is an artist, writer, and educator within the Department of Visual and Performing Arts, where she teaches courses in sculpture and design. She holds dual BA degrees from Virginia Tech (Theatre Arts and English), and an MA and MFA in Sculpture from The University of Iowa.
Professor Gordillo spent her early career designing and painting for theatre at The Santa Fe Opera, The Utah Shakespeare Festival, The Krannert Center for the Performing Arts, and Synchronicity Performance Group. She remains entranced by the way theatre can connect people across distance. This is reflected in her current works of art, which often ask: What is the space between us? And, how do we cross it?
She was the founder of The Eva Luna Project, an arts ensemble based inside a women's prison, and an artist-in-residence program at The Iowa Lakeside Laboratory, a biological field station in northwest Iowa. Some of her favorite works include the exhibits ChickenBus (Rozsa Gallery), Prohibido Orinar Aquí (Centro Intercultural Efraín Recinos, Quetzaltenango, Guatemala), and Chuchitos del Rio (Rio San Juan, Aguacatán, Guatemala). She loves dogs, trees, and the color pink.
Creative Project 1: Brazada
Brazada, which roughly translates as, as far as outstretched arms may reach, is Professor Gordillo's collaboration with writer and journalist Hugo Gordillo. The project is based jointly in Guatemala and the United States. It follows the Guatemalan civil war and U.S. complicity in its most violent acts. The collaboration builds on Hugo's career as a journalist (1980-2012), and his current work as a writer and poet, and on Lisa's work as a sculptor and performance artist. Brazada creates works of art and writing that offer entry points into a difficult international narrative whose history remains mostly unacknowledged.
Keep Em' Flying! is an interdisciplinary project working to stop bird-window collisions. Since 2014, she has built collaborations with The School of Forest Resources and Environmental Sciences, Materials Science and Engineering, Electrical Engineering, Enterprise, and community educators. Each semester, Professor Gordillo collaborates with her design students and others on campus to develop solutions. Work includes window designs, window sensors, glass etching, and community engagement projects to protect migratory birds.
Links of Interest