Kristy Dodson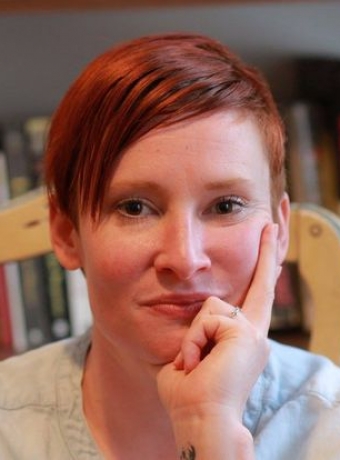 Visiting Assistant Professor, Visual and Performing Arts
MFA, Brooklyn College
BFA, The Conservatory of Theatre Arts & Film at SUNY Purchase
Biography
Kristy's work as a director has been seen and developed at many noted artistic institutions: Lincoln Center Theater, Dansearena Nord, The Public Theater, The McCarter Theater, Clubbed Thumb, The Lark Play Development Center, among others. She has collaborated with playwright Liza Birkenmeier, Christopher Oscar Peña, Georgina Escobar, Ryan Dowler, author Joan Roth Schmeichel, choreographer Einy Åm Sparks & EyeKnee Coordination, BAAD!, to name a few. In 2013 she was awarded the Zwick Award in Directing and was the first Artward Bound awardee to receive a group residency for her sight-specific art installation performance of Waiting For Godot at NACL which was later produced at Arts@Renaissance. She was the Assistant Director for the World Premier of Have You Seen Us by the legendary Athol Fugard starring Sam Waterston. And was the Production Assistant for Brooklynite the Musical with director Michael Meyer at The Vineyard Theatre. In 2016, she was invited to Lincoln Center as one of six emerging directors from around the world to develop a new play; The Hollower by Liza Birkenmeier that was produced by New Lights Theater and performed in Manhattan.
As the founding Artistic Director of Overturn Theatre she produced and created a myriad of live performances for over 10 years, including: 7 new theatrical works with NY premiers, 2 reimagined classics, over a dozen project developments, concerts, installations, galleries, and have commissioned hundreds of artists from countless mediums to create new works in area of live performance. Overturn was the recipient of the 2013 Arts@Renaissance commissioned ensemble, IRT 3B residency in 2012, Artward Bound Recipient in 2011, Developing Artist award of excellence in 2010, and was a 4 year resident company at Clemente Soto Velez. Since then she has worked administratively in Artistic, Literary and Development at The Vineyard Theatre, The Lark Play Development Center, Theatre 167, and Making Books Sing.
She is a very active educator and advocate of artists with disabilities, specializing in disability in performance/performance in disability. She sits on many committees addressing issues with accessibility, sensory, and sensitivity throughout the five boroughs of NY as well as New Jersey. She has been a co-curator and guest artist with The Dwarf Artist Coalition for the last three years and is the founder and artistic head of the Dodson-Levine Fellowship, which provides young little people around the nation a yearlong professional mentorship in Theatre. She has been invited as a guest artist to work with disabled populations from Jackson Heights to Uruguay. Her education work has spanned from universities to community centers to district 75 schools, from private coaching for professional actors, to professional development training for fellow educators, to intergenerational collaborations with elders, to work with immigrant communities, to underserved youth facilities, to the Little People of America National Conventions.
She began her career in performance as a gymnast/acrobat, where she performed and competed internationally for 14 years, notably performing with Ringling Brother's & Barnum and Baily's Circus' Midwest Touring Company. After an acute back injury she turned her focus toward theatre and performance. Her directorial debut was in support with St. Jude's Hospital for Children. She gained most of her cast through the Make A Wish Foundation. She was 17 years old. She is a proud member of the Stage Directors and Choreographers Society since 2014.
Links of Interest
Specialties/Activities
Directing
Acting
Sensory Performance and Sensitivity Training
Movement