Sidney Dharmavaram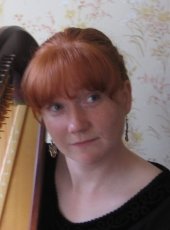 Contact
Harp Instructor, Visual and Performing Arts
Biography
Harpist Sidney Dharmavaram is a Suzuki Music Educator. She studied harp pedagogy with Mary Kay Waddington, founder of the Suzuki Harp Method, at the Utah Suzuki Harp Institute and the American Suzuki Institute. She is a registered Suzuki teacher through the Suzuki Association of the Americas with accreditation in Harp, Violin, and Early Childhood Education. Sidney advocates that being a musician is just as much a physical pursuit as well as an intellectual pursuit. Therefore, her teaching emphasizes the efficient use of the body's biomechanics to produce a high-caliber tone while avoiding injury.
Sidney's philosophy is that quality teaching is founded upon knowing and understanding the student. She is always pleased to get to know the varied students who register for harp lessons through Michigan Tech, from the engineering students who have never touched a harp to the seasoned performers. Sidney even traveled to Boston to join her first MTU harp student in the Massachusetts Harp Ensemble, performing in the Reagle Theatre's production of A Little Bit of Ireland.
Prior to embarking on a master's degree in pure mathematics, Sidney double-majored in Mathematics and Conservation Biology at the University of Wisconsin – Madison. Alongside her formal academic studies, music had such importance in her life that she chose to continue her harp studies while at the university, in the same fashion as many of the Michigan Tech music students. Sidney enrolled in advanced harp lessons through the UW-School of Music for all the years that she was at the university, as well as performed with the UW-Madison Harp Ensemble and the UW-Madison Symphony Orchestra. Additionally, Sidney was honored to receive the Margaret Rupp Cooper Harp Scholarship.
Sidney lives in Calumet in the ancestral home of her great-uncle Arthur Kitti, Michigan Tech's first Director of Bands (1931-1939). She has continued the Kitti family tradition of being involved in the area's music scene. She has presented solo recitals at the Keweenaw Heritage Center at St. Anne's, appeared as guest artist several times with the Michigan Tech Choirs, performed with the Pine Mountain Music Festival Orchestra on occasions, and performed with the Keweenaw Symphony Orchestra from 2007 to 2019.