We know that rules and guidelines aren't always the most exciting, but we do want to make sure that you know what will be expected of all participants during their time at SYP. Please make sure to review the info below before you arrive on campus! We will also go over it with you during orientation.
Because our greatest priority is the well-being of our participants, you will be asked to sign a pledge to abide by our community standards. Following the community standards will assure that you have a safe and enjoyable experience at camp.

Each participant is expected to respect the rights and property of all other participants, staff members and the University. Please remember that you are a guest of the City of Houghton and Michigan Technological University. Below you will find our program requirements and regulations to be followed. If you have any questions regarding this information please contact our office.
Our participant handbook is a great reference for all participant expectations including community standards, SYP rules, campus boundaries, apparel expectations, computer use and more. Participants will be given a printed copy of this handbook during camp check-in as well—make sure you read it!
You must attend all selected daytime sessions. Evening recreational activities, special student-formed groups, etc., are optional, but you are encouraged to participate in as many different experiences as possible.
Alcoholic beverages, illegal drugs or drug-related paraphernalia, fireworks or other explosives, and weapons have no place here. If you are found using or possessing any of these, it will be considered a major violation; no warning need be issued before removing you from the program.

Michigan smoking laws prohibit smoking under the age of 21. Underage buying, smoking, or possession of tobacco is a misdemeanor punishable by a $50 fine. Participants who possess tobacco products will be asked to leave the program at their expense, and the program fees paid will be forfeited. Additionally, Michigan Tech is a smoke, vapor, and tobacco-free campus.
Residence Hall Requirements
Students must be on floor for their on-floor meeting every night of the week. Students are not allowed to leave the floor after this time.
Members of different gender (except parents, guardians, or staff) are not permitted in participants' rooms or immediate living area (hall).
The indoor and outdoor lounge areas, recreation room, and TV room, are available for you to interact with your friends.
Personal friends, not associated with the program, are not allowed to visit during your stay in the residence hall. Unusual situations should be approved by the director before the program begins.
Participants are not permitted to drive while they are here. Students who drive themselves to the program must turn in their keys to the main office and park where instructed.
SYP Rules
We are a substance free program. This includes tobacco, drugs, alcohol, and e-cigarettes. Absolutely no alcohol and drugs allowed at any time. Please be aware that there are some important rules (drugs, alcohol, boundaries – just to name a few), and if they are violated, the student(s) involved may be sent home immediately, at their own expense.
Weapons of any kind (including pocket knives) are not allowed in your possession at any time. Pocket knives need to be turned into the front desk, if the student plans to use it for an exploration.
If you drove yourself here, you must turn your keys into the SYP front desk and park your car in the appropriate lot (to avoid ticketing/towing). Keys will be returned to you at the end of the Program. A parking pass ($20/week) must also be purchased at the front desk.
Please turn in all medications prescription and non-prescription into the SYP front desk. Inhalers, Epipens, birth control, and insulin are the only prescribed items allowed to be kept by SYP participants.
Dining Hall – clear your own trays, only enter once per meal, please don't loiter as the dining hall will be busy.
Wadsworth Hall residence floors are divided by gender and doorways are clearly marked to indicate appropriate use. Participants are expected to follow all posted gender restrictions and this is also enforced with card tap access into approved areas.
All students may share the lounges, and other areas which have been designated by SYP as community spaces.
You may not switch rooms under any circumstances.
The room key you are issued is your responsibility and should not be loaned or given to anyone else. If you lose your key, contact your counselor who will request a replacement key for you. There is a $75.00 charge for keys that are replaced or for keys that are not returned at the end of your stay.
You will be charged a fee if you damage and/or remove any screens from the windows or damage any other room furniture.
Do not remove furniture from rooms.
Candles and other open-flame objects are not permitted in the residence halls. The smoke detectors are particle detectors, so don't spray deodorant or hair spray near them.
Please pick up after yourself and keep rooms neat. You will be expected to clean your room before checking out of camp.
Cell phones must be turned off and put away when in class or special presentations.
Music devices and portable video games may not be brought to classes. Music should be kept at a low volume in the residence halls.
Participants are expected to attend class during course time. If for any reason you are unable to attend, please inform a staff member or the SYP front desk.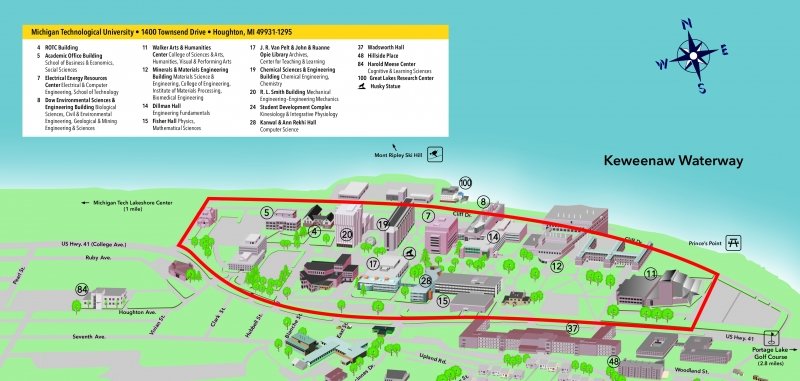 Never leave the campus boundary without a counselor, instructor, or other authorized adult and make sure your name is on the activity sign out sheet. This includes trips to the Student Development Complex (SDC)!
Parents/friends/or relatives who want to take you to/from campus must go to the front desk to sign you in/out. That person must sign a release document, and sign you back in at the front desk upon your return. This rule is in effect as soon as you register. Parents/guardians should document all authorized persons who may check a student out of the program in their CampDoc profile. Please note that these outings must not conflict with any mandatory activities on the schedule.
Cross US 41 only at the designated crosswalk, follow the directions of the crossing guard. Never cross Cliff Drive (the road at the back of the main campus) without a counselor or instructor.
The other residential buildings (McNair Hall, Hillside Place, and Douglass Houghton Hall) are all off limits.
In Wadsworth Hall, please use only the main stairwell; the other stairwells are alarmed. Please follow all marked signs for SYP participants posted as some areas are off limits.
Elevator access is not granted to SYP participants except for those requiring an accessibility accommodation. Please contact our office for more information.
Absolutely no "horseplay", excessive noise, or inappropriate behavior in the academic buildings on campus.
Michigan Tech Summer Youth Programs reserves the right to terminate the stay of any student when it is deemed to be in the best interest of either the student or the program (as determined by the University and the program staff). The University and the program and the program staff expressly reserve the exclusive right to establish and determine the standards of conduct behavior, and performance of the participants engaging in the program and to require compliance with such standards as a condition of participation in the program. Students who do not follow these rules, or who engage in dangerous or inappropriate behavior, will be expelled from the program at their own cost. Examples of inappropriate behavior include such things as causing disruptions in class, the use of profane language, and the repeated violation of minor rules. This is not a complete list. If you have any further questions: about what behaviors are unacceptable. please contact our office at 906-487-2219 or 1-888-PRECOLLEGE.