What Can I Do?
The Summer Youth Programs provide numerous opportunities to become part of the team. We hire a large number of seasonal staff in a wide variety of roles from live-in counselors to classroom instructors.
No matter the role, we are looking for outstanding individuals who bring awesome experiences and fresh perspectives to the table. Applicants should be positive, enthusiastic, innovative, and student-focused. We offer a flexible schedule in a casual, fun work environment, and provide valuable professional development experiences.
Student Staff
Interpersonal skills are a critical aspect to your resume and a keen area of interest for employers. What better way is there to build these critical skills than by working with youth in a high impact, hands-on, experiential learning environment? Summer Youth Programs student staff channel their creativity, team building, and interpersonal communications skills on a daily basis as they help our 1000+ middle and high school students navigate a week of STEM summer camp.
Summer Youth Programs welcomes undergrad and graduate students of all majors to join our team as we seek to explore interests, spark curiosity, and make an impact.
If you're interested in joining our high-energy team for a summer of personal growth, critical skill development, and epic adventure please review our job descriptions below. We'll host informational sessions in November and January to answer all of your questions about working for SYP.

We're Hiring! The 2023 Summer Youth Programs Staff application is now live.
Watch SYP Hiring Information Session video
SYP Hiring Information Session
Please download, complete, and submit the SYP Staff Application (along with your resume) to outreach@mtu.edu. One of our staff members will then contact you to schedule your virtual interview.
If you have questions you can contact us at 906-487-2219 or email outreach@mtu.edu to learn more.
Michigan Technological University is an Equal Opportunity Educational Institution/Equal Opportunity Employer that provides equal opportunity for all, including protected veterans and individuals with disabilities.
2023 Staff Job Descriptions
March 1, 2023 (MUB Alumni Lounge A) Cancelled!
Info session will be held in-person with SYP professional staff on hand to answer all of your questions!

Application & resume's can be submitted anytime to outreach@mtu.edu. Hiring will be done on a rolling basis until positions are filled. A member of our office will reach out to you following receipt of your application to schedule an interview.

Hire letters will be sent out following interviews and are due back within 2 weeks.

After April 10, 2023 please email outreach@mtu.edu to see if there are any open staff positions available.
Course Instructors and Teaching Assistants
Most of our SYP explorations are taught by Michigan Tech faculty, staff, graduate, and upper-level undergraduate students. The Center for Educational Outreach directly hires some instructors - others are hired by the host departments based on their own criteria. We are happy to facilitate connections between interested instructors and the responsible departments as needed.
Our explorations are designed to be intellectually challenging and introduce students to material in the field but most importantly- they should be fun! Explorations should be a mix of classroom time, field trips, and labs and everything should be very hands-on for the students. Keep the lectures to a minimum!
Instructional Time Overview
Class time: Monday–Friday 9 a.m. to 4:30 p.m. (Lunch from noon–1:15 p.m.)
31.25 contact hours per week to cover all material
Generally, 25 or fewer participants per exploration
Instructors with more than 10 students may also have a teaching assistant
If you are interested in applying to be an instructor, please take a look at our exploration descriptions to choose what areas you are most interested in and qualified to teach.
If you are interested in instructing an SYP class, you will need to contact your home department to inquire about the availability of Instructor/TA opportunities. SYP can asssit you with the best contact person by emailing outreach@mtu.edu.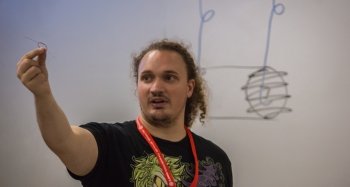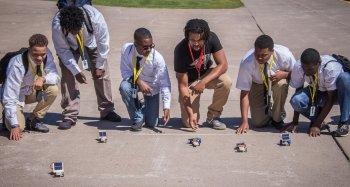 "I'll remember how funny the counselors were. I truly felt like they understood us and really cared. They were also very understanding and helpful in telling me about other opportunities I may be interested in."