What Can I Do?
The SYP office provides numerous opportunities to become part of the team. We hire a large number of seasonal staff in a wide variety of roles from live-in counselor staff to classroom instructors.
No matter the role, we are looking for outstanding individuals who bring awesome experiences and fresh perspectives to the table. Applicants should be positive, enthusiastic, innovative, and student-focused. We offer a flexible schedule in a casual, fun work environment, and provide valuable professional development experiences.
Michigan Technological University is an Equal Opportunity Educational Institution/Equal Opportunity Employer, which includes providing equal opportunity for protected veterans and individuals with disabilities.
Student Staff
If you're a Michigan Tech student looking for a position that lets you channel your creativity, innovation, enthusiasm, and team spirit, all in a professional environment, we have just the job for you! All majors and levels are welcome.
Our hiring process for 2020 will begin in November 2019 . If you have questions or would like to be considered for our staff, you can contact us at 906-487-2219 or email cpcojobs@mtu.edu to learn more.
Hiring Timeline
For SYP returning staff and SYP alumni: (New staff info session will be held in mid January)
Employment info session is scheduled for November 19th, 6:00 pm in the MUB Alumni Lounge A.
Applications will be due December 2 with interviews scheduled for Dec. 4-6, 2019.
Hire letters will be sent out on December 20, 2019 and due back January 15, 2020.
Course Instructors and Teaching Assistants
Most of our SYP explorations are taught by Michigan Tech faculty, staff, graduate, and upper-level undergraduate students. The Center for Pre-College Outreach directly hires instructors for some fields - others are hired by the host departments based on their own criteria. We are happy to facilitate connections between interested instructors and the responsible departments as needed.
Our explorations are designed to be fun (it is summer, after all!), but intellectually challenging, introducing students to material in the field you are covering. Your class should be a mix of classroom time, field trips, and labs. Everything should be very hands-on for the students, with lectures kept to a minimum.
Instructional Time Overview
Class time: Monday–Friday 9 a.m. to 4:30 p.m. (Lunch from noon–1:15 p.m.)
31.25 contact hours per week to cover all material
Generally, 25 or fewer participants per exploration
Instructors with more than 10 students may also have a teaching assistant
If you are interested in applying to be an instructor, please take a look at our exploration descriptions to choose what areas you are most interested in and qualified to teach.
How to Apply
If you are interested in instructing an SYP class, you will need to complete several items:
Letter of Recommendation (details within the application)
Most-recent resume or CV.
All materials and questions should be directed to the Center for Pre-College Outreach:
Once all materials are received by the CPCO, we will reach out to you to schedule an interview.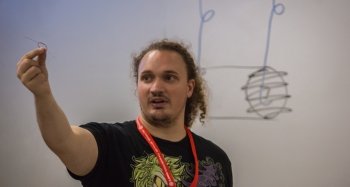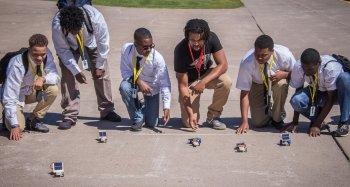 "I'll remember how funny the counselors were. I truly felt like they understood us and really cared. They were also very understanding and helpful in telling me about other opportunities I may be interested in."