Timothy J. Scarlett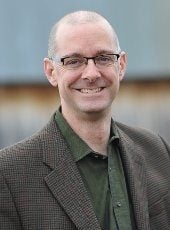 "Whereas innovation, in the backwards reading of creativity, lies outside of time, improvisation, in a forward reading, is inherently temporal."
—Elizabeth Hallam and Tim Ingold (2007) Creativity and Cultural Improvisation. Berg, New York.
Contact
906-487-2359
Academic Office Building 210
Associate Professor of Archaeology and Anthropology
PhD, University of Nevada, 2002
MA, Boston University, 1994
BA, University of Arizona, 1991
Biography
Timothy James Scarlett grew up in rural Bucks County, Pennsylvania. After working on his first dig as a 17-year-old high school student, Tim dedicated his life to the archaeological study of American history. After taking degrees in anthropology and/or archaeology from the University of Arizona (BA, 1991), Boston University (MA, 1994), and the University of Nevada (Ph.D., 2002), he joined the faculty in the Industrial Heritage and Archaeology Program in the Department of Social Sciences at Michigan Technological University. He is now an Associate Professor of Anthropology and Archaeology, active in the Industrial Heritage and Archaeology's interdisciplinary community of practice.
Dr. Scarlett is deeply committed to a dramatically interdisciplinary, public archaeology. In his personal research, he examines how individuals creatively solved problems at work as they adapted to new physical landscapes and social environments. He uses diverse methods in his studies, employing techniques from chemistry and physics to theology and art history. Besides fieldwork, Dr. Scarlett relies upon experimental and experiential discovery in his scholarship. Eclectic organizations have supported his research and public programming, ranging from the National Science Foundation, The National Park Service, the Utah Humanities Council ,the Scenic Hudson Land Trust, Keweenaw National Historical Park Advisory Commission, Utah State Parks, and Earthwatch. Besides Michigan's Copper Country, he has conducted research at sites in the Great Basin and Intermountain West, Southwest, Interior Alaska, Great Lakes, New England, and the Mid-Atlantic regions of North America.
Dr. Scarlett began teaching in 1992 and has been recognized for excellence by several institutions. His early experiences, as an educational docent for the Arizona State Museum and as a teacher for the John's Hopkins University Center for Academically Talented Youth, provided him with educational training unusual for a University professor.
Dr. Scarlett is committed to collaborative and inclusive public archaeology. He has worked to develop several best-practice models for archaeological fieldwork that integrate field and lab research with community-based collaboration, education, heritage tourism, and traditional and new media documentary production.
Tim and his wife, Sarah Fayen Scarlett, live with their sons in beautiful Houghton, Michigan, amid the historic copper-mining districts of the Keweenaw Peninsula.
Links of Interest
Research Interests
Historical and Industrial Archaeologies
Ecobiography, Creativity and Work
Ceramic Petrology, Neutron Activation Analysis
Community-based scholarship, public science/humanities
Archaeometric and Conservation Sciences
Recent Publications
Scarlett, Timothy James, Amy M. Bastion, Leslie G. Cecil, Christopher W. Merritt, and Michael Glascock. (2015). A Muddy Study: Historical Archaeology and Archaeometry for Societies in Contact. In Jaume Buxeda I Garrigós, Marisol Madrid i Fernández, and Javier G. Iñañez (eds.), Global Pottery 1: Historical Archaeology and Archaeometry for Societies in Contact. British Archaeological Reports (BAR), International Series 2761, Archaeopress Press, Oxford, UK. pp. 397-409. Read More
Zhao, Shan, Bowen, Patrick. K., Drelich, Jaroslaw., and Scarlett, Timothy James. (2015). Modeling "Reproducibility in Rehydroxylation of Ceramic Artifacts." Journal of the American Ceramic Society 98(10):3367–3372. Read More
Bowen, P. K., Drelich, J. D., and Scarlett, T. J. (2013). Modeling Rehydration/Rehydroxylation Mass-Gain Curves for Davenport Ceramics. Journal of the American Ceramic Society (2013):1-7. Read More
Drelich, Jaroslaw., Bowen, Patrick. K., and Scarlett, Timothy James. (2013). "Effect of Humidity Instability on Rehydroxylation in Fired Clay Ceramics" Journal of the American Ceramic Society 96(4):1047-1050. Read More
Scarlett, Timothy James and Samuel Sweitz. (2012). Constructing new knowledge in Industrial Archaeology. In Harold Mytum (ed.), Global Perspectives on Archaeological Field Schools. Springer Verlag, New York, pp. 119-145. Read More
Bowen, Patrick K., Helen J. Ranck, Timothy J. Scarlett, and Jaroslaw W. Drelich. (2011). Rehydration/Rehydroxylation Kinetics of Reheated XIX-Century Davenport (Utah) Ceramic. Journal of the American Ceramic Society 94(8):258-2591. Read More
Scarlett, Timothy James. (2010). What if the Local is Exotic and the Imported Mundane? Measuring Ceramic Exchanges in Mormon Utah. In Carolyn Dillan and Carolyn White (eds.), Trade and Exchange: Archaeological Studies from History and Prehistory. Springer Verlag, New York, pp. 165-178. Read More
Scarlett, Timothy James, Michael Deegan, and Renée Blackburn. (2009). Two Seasons of Excavation at the 1865 Office Building at Scenic Hudson's West Point Foundry Preserve. IA: the Journal of the Society for Industrial Archaeology 35(1-2):105-115.
Deegan, Michael and Timothy James Scarlett. (2008). The Conservation of Ferrous Metals from the West Point Foundry Site. Bulletin of the New York State Archaeological Association 124: 56-68.
Scarlett, Timothy James, Robert J. Speakman, and Michael D. Glascock. (2007). Pottery in the Mormon Economy: an Historical and Archaeometric Study. Historical Archaeology. 41(4):70-95. Read More
Scarlett, Timothy James, Jeremy Rahn, and Daniel Scott. (2006). Bricks and an Evolving Industrial Landscape: the West Point Foundry and New York's Hudson River Valley. Northeast Historical Archaeology 35:29-46.
Scarlett, Timothy James. (2006). Flowscapes of Globalization in Mormon Pioneer Utah. International Journal of Historical Archaeology 10(2):109-134. Read More
Recent Funding
Archaeological and Historical Research for Pullman National Monument, United States Department of Interior, National Park Service. 2016-2019. $149,564 http://www.mtu.edu/ttoday/?issue=20161205#new-funding
Research Projects
Industrial Archaeology and Industrial Heritage at Pullman, Illinois (2016-2019)
Cliff Mine Archaeology Survey (2010-2015)
Utah Pottery Project (1999-present)
West Point Foundry Archaeological Project (2001-2008)