Chelsea Schelly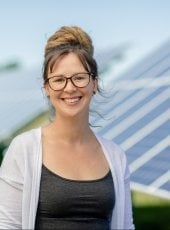 Contact
906-487-1759
Academic Office Building 226
Associate Professor of Sociology
PhD, Department of Sociology, University of Wisconsin-Madison, 2013
Links of Interest
Research Interests
Alternative technology adoption
Renewable energy technologies
Renewable and alternative technology policy
Sustainable communities
Energy conservation and consumption practices
Self-provisioning
Environmental education
Recent Publications
Schelly, C. 2017. Dwelling in Resistance: Living with Alternative Technologies in America. New Brunswick, NJ: Rutgers University Press. Read More
Prehoda, E., Schelly, C., and Pearce, JM. (2017). U.S. Strategic Solar Photovoltaic-Powered Microgrid Deployment for Enhanced National Security. Renewable & Sustainable Energy Reviews 78: 167-175 Read More
Banerjee, Aparajita, Chelsea L. Schelly, and Kathleen E. Halvorsen. (2017). Understanding public perceptions of wood-based electricity production in Wisconsin, United States: place-based dynamics and Social Representations. Environmental Sociology. Online first, available online Read More
Schelly, C. and Banerjee, A. (2016). Soft Energy Paths Revisited: Politics and Practice in Energy Technology Transitions. Challenges 7, 16
Kreuze, A. Schelly, C, and Norman, E.S. (2016). To Frack or not to Frack: Perceptions of the Risks and Opportunities of High-Volume Hydraulic Fracturing in the United States. Energy Research and Social Sciences 20: 45-54. Read More
Schelly, C. (2016) Understanding Energy Practices. Society & Natural Resources 29(6): 744-749 Read More
Schelly, C. 2016. Crafting Collectivity: American Rainbow Gatherings and Alternative Forms of Community. Routledge. Originally printed in 2014 by Paradigm Publishers, Boulder CO.