Nancy Langston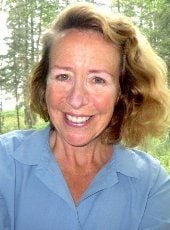 Contact
Academic Office Building 220
Professor of Environmental History, Social Sciences
Member of the Great Lakes Research Center
Affiliated Professor, CFRES
Ph.D., University of Washington
M.Phil, Oxford University
B.A., Dartmouth College
Biography
I am an environmental historian who explores the connections between toxics, environmental health, and industrial changes in Lake Superior and other boreal watersheds. I am particularly interested in students who wish to focus on environmental health, water and watershed policy, and Great Lakes environmental policy.
I spent 17 years at the University of Wisconsin-Madison in the Nelson Institute of Environmental Studies and the Department of Forest and Wildlife Ecology. I started at MTU in 2013. During 2012-2013, I was the King Carl XVI Gustaf Professor of Environmental Science, in residence in the Department of Historical, Philosophical and Religious studies at Umeå University.
Learn more about my current research at Sustaining Lake Superior
To contact me, email is best: nelangs3@mtu.edu
Mailing Address:
AOB 220, MTU
1400 Townsend Dr
Houghton MI 49931
608 852 6031
---
Potential graduate students, please read!
1. The Statement of Purpose is a research statement. Your goal is to provide a brief history of your past research experience and the future research you intend to complete. The research statement is the primary way that the search committee determines if your interests and past experience make you a good fit for the EEP program.
Start by articulating the broader field that you are working within and the larger environmental policy questions that you are interested in answering.
Then move on to articulate your specific environmental policy interest. Give us a specific example of a research question in environmental policy that you want to work on.
Discuss how you want to approach that research question. What tools, experiences, and skills have you already developed? What additional tools do you want to develop?
Then tell us why this particular environmental policy program is ideal for your chosen research. Be specific! Tell us what courses you want to take and why, and tell us who you want to work with and why.
2. The Personal Statement allows you the opportunity to explain your career goals and experiences.
Start by describing your specific career goals in environmental policy.
Then tell us how this specific graduate degree will help to achieve those career goals.
Describe the work, education, research, or personal experiences that have prepared you for graduate study. Give specific examples.
Explain any discrepancies in your record, such as low grades or standardized exam scores.
Links of Interest
Areas of Interest
Toxics, forested watersheds, and northern lakes
Environmental history
Watershed change and water quality
Mining history
Recent Publications
Thistle, J. and N. Langston. 2015. "Entangled histories: Iron ore mining in Canada and the United States. " Extractive Industries and Society Pre-print publication 14 July 2015; 10.1016/j.exis.2015.06.00 Read More
Mårald, E., N. Langston, A. Stens, and J. Moen. 2015. "Changing ideas in forestry: a comparison of concepts in Swedish and American forestry journals during the early 20th and 21st centuries." Ambio. Read More
Steen-Adams, M. M., Langston, N., Adams, M. D., & Mladenoff, D. J. 2015. "Historical framework to explain long-term coupled human and natural system feedbacks: application to a multiple-ownership forest landscape in the northern Great Lakes region, USA." Ecology and Society, 20(1). Read More
Nancy Langston. 2013. Mining the Boreal North. American Scientist. April
Nancy Langston. 2010. Toxic Bodies: Hormone Disruptors and the Legacy of DES. New Haven: Yale University Press. Read More
Langston, N. 2015. "Thinking Like A Microbe: Borders and Environmental History." Canadian Historical Review. 95(4): 592-603 Read More
Michelle Steen-Adams, David J. Mladenoff, Nancy E. Langston, Feng Liu, and Jun Zhu. 2011. "Influence of Biophysical Factors and Differences in Ojibwe Reservation Versus Euro-American Social Histories on Forest Landscape Change in Northern Wisconsin, USA." Landscape Ecology 26 (8) (August 21): 1165-1178. Read More
Michelle Steen-Adams, N. Langston, and D. J. Mladenoff. 2010. "Logging the Great Lakes Indian Reservations: The Case of the Bad River Band of Ojibwe." American Indian Culture and Research Journal 34: 41-66. Read More
Recent Funding
National Science Foundation Research Grant, STS Program, Toxic Mobilizations in Lake Superior, 2014-2017, $239,000.
King's Professorship, Sweden
Presentations
Mining the Boreal North. Lecture to the King of Sweden and the Royal Society, Stockholm, May 2013.
Hybrid Ecologies and the Environmental Humanities. Keynote for Science and Technology Days, Umea University, Sweden, March 2013.
Toxaphene in Lake Superior: The Convergence of Medical and Environmental Health. Keynote for Endocrine Disruptor Conference, Paris, December 2013.
Why Blame the Non-native? Invasive species, fisheries collapse, and Lake Superior. Resilience Center, Stockholm, November 2013.
What happened to the lake trout? Historical perspectives on multiple stressors in Lake Superior. Aalborg University, Denmark, October 2012.
After the collapse: Comparing societal responses to sudden environmental change in boreal watersheds. Umea University, October 2012.
Ecological History and an Ecology of Health. Renmin University, Beijing, China. Keynote speaker for opening ceremonies of the Center for Ecological History. May 2012.
Rachel Carson's Silent Spring and 50 years of environmental health concerns. Rachel Carson Center and the Deutsches Museum, Munich, Germany. Keynote speaker. April 2012
Research Projects
Sustaining Lake Superior
Mining the Boreal North
Toxic Bodies