Angie Carter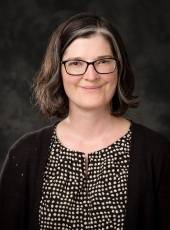 Contact
906-487-1431
Academic Office Building 207

Assistant Professor, Environmental/Energy Justice
PhD, Sociology and Sustainable Agriculture, Iowa State University
MS, Rural Sociology, Iowa State University
MFA, Creative Writing, University of Arizona
BA, English and French, University of Iowa
Research Interests
Environmental inequality and justice
Extractive industries
Agrifood and energy systems sustainability
Environmental and natural resource policy
Areas of Expertise
Environmental sociology
Rural sociology
Community-based and participatory research
Social movements and social change
Recent Funding
Carter, A., M. Seguin, R. Pressley. Jan 2020-Sept 2021. Seeding Rural Development: Creating Resiliency Through Gardening. Michigan Department of Agriculture and Rural Development. $19, 147.
Carter, A. Jan-Dec 2020. Growing Food, Feeding Communities of Practice: Preliminary Analysis of Community Food Provider Networks in Western Upper Peninsula. Rural Sociological Society Early Career Award. $1,680.
Carter, A. Jan-Dec 2020. Western Upper Peninsula Communities Food Systems Assessment Phase 1. Portage Health Foundation Research Excellence Fund Seed Proposal. $21,111.
Gofan, A., A. Wellstead, and A. Carter. October 2019-October 2021. Era of 'Labification': Solving Disruptive Social Problems through Policy and Social Innovation Labs. Binational Science Foundation. $168,194.
Gierke, J., A. Mayer, L. Bowman, A. Carter, F. Liu. May 2019- Collaborative Research: Coupling participatory and hydrological research for adapting to extreme hydrometeorological events in agricultural communities in El Salvador. National Science Foundation IRES Track III: Collaborative Research. $881,974.
Basche, A. and A. Carter. 2019-2021. "Partnering in Conservation: Engaging Women Farmland Owners and their Tenants in Collaborative Conservation Planning." North Central Region Sustainable Agriculture Research and Education (NCR-SARE) Partnership Grant. United States Department of Agriculture. $40,000.
Research Projects
Local and community food systems & food justice
Women farmland owners and conservation adoption
Water and environmental justice
Grassroots movements to protect the commons
Teaching Experience
SS 2700 Introduction to Sociology
SS 3110 Food Systems & Sustainability
SS 3805 Environmental Justice
SS 4211 Ethnographic Methods
SS 4700 Communities and Research
SS 5720 Social Thought and Contemporary Issues