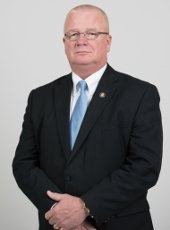 On behalf of the men and women of the Michigan Tech Department of Public Safety and Police Services, I want to welcome you and thank you for visiting our website. Our agency is a service oriented police department committed to providing the highest level of quality police services and promoting a safe and secure campus for students, faculty, staff and visitors.
Our department is committed to the concept of community policing and works diligently to develop and maintain partnerships with campus organizations, groups, and individuals for the purpose of improving the quality of life for the campus community. I believe strongly in collaboration with our partners to reduce crime and enhance the services that the department provides
The Michigan Tech Department of Public Safety and Police Services is committed to providing Michigan Tech with a safe environment, conducive to the goals of education and research. Although reported crime at Michigan Tech is relatively low, it is important for students to remember that we are not immune from criminal activity. In partnership with the community, we work to prevent crime and solve problems that affect students, faculty, and staff. The safety and security of the University is the combined responsibility of the entire Michigan Tech community
I encourage all students, faculty, staff and visitors to be aware of the resources offered from the department and innovative equipment being utilized daily. Our officers are committed to initiating and maintaining close ties with the community. Feel free to stop by our headquarters on MacInnes Drive, just up from the traffic light, to ask any questions about security issues that are important to you. Also, by taking the time to familiarize yourself with our resources and by using the information provided on this website, you will be helping us to help you in the pursuit of a safe campus. Feel free to contact me with questions or suggestions.
Sincerely,
Brian Cadwell
Director and Chief of Police
Phone: 906-487-2216
Email: bjcadwel@mtu.edu
Coffee With The Chief
The "Coffee with the Chief" program allows for a one-on-one conversation between Chief Cadwell and a member of the community to promote a stronger relationship between the Police Department and those it serves. It is intended to create a more relaxed atmosphere to casually discuss any areas of concerns or suggestions for improvements. If you are interested in participating, please complete all fields and Chief Cadwell will do his best to meet with as many requests as possible. Chief Cadwell or a member of his staff will get back with you to confirm the time and location of your meeting.
Click here to schedule your coffee with the chief