Engineers Make Great Artists: Rozsa Center Makes A Case for the Arts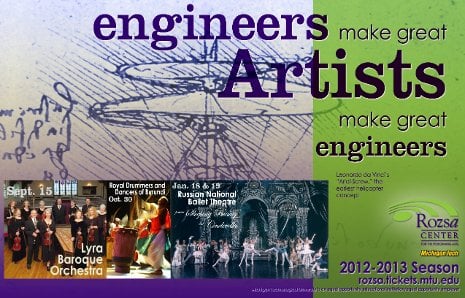 Engineers and artists live in different worlds, right? Wrong. Just look at Leonardo da Vinci, who not only painted the Mona Lisa, but drew plans for the first helicopter.
Michigan Technological University's Rozsa Center for the Performing Arts and the Department of Visual and Performing Arts (VPA) are partnering in a marketing campaign that makes a case for why the arts are integral to the mission of Michigan Tech.
"This year we're looking at arts on the Michigan Tech campus a little differently," says Susanna Brent, Rozsa Center director. "We're trying to start a conversation about what art means in a university that is so heavily invested in science and technology, mathematics and management, and of course, engineering: Why is an arts center, and programming that provides a world-class cross-section of performing arts, important to our students?"
The answer, says Brent, is: "Engineers make great artists, make great engineers."
The marketing plan focuses on STEMM, a play on the acronym STEM (science, technology, engineering and mathematics), the fields for which Michigan Tech is best known. Brent says that STEMM means:
S: Scientists make great storytellers make great scientists
T: Technology makes great theater makes great technology
E: Engineers make great artists make great engineers
M: Mathematicians make great musicians make great mathematicians
M: Managers make great producers make great managers
Ted Rozsa, 1936 alumnus and Rozsa Center benefactor, said it best: "It is a university's responsibility to provide the opportunity for all students to gain an appreciation for the arts and diverse points of view."
The 2012-2013 Arts Marketing Plan will promote the relevance of art at Michigan Tech, focusing on arts as they relate to the Michigan Tech STEM mission. This includes continuing to cross-promote VPA and Rozsa events.
Engineers make great artists make great engineers" is a theme that will appear throughout the campaign. Design elements will focus on da Vinci drawings.
Following Ted Rozsa's wish for the Center to "educate the entire student," this season, the Rozsa Center and VPA will present a diverse, multi-faceted performing arts season, opening on Sept. 15 with the Lyra Baroque Orchestra, whose commitment to early music and period instruments enhance their distinctive, historically informed style.
The rest of the season includes:
Dec. 8, the Hampton [Rock] String Quartet, accompanied by the Keweenaw Symphony Orchestra, playing classically influenced arrangements of well-known rock songs.
In January, the Russian National Ballet Theatre will perform two timeless ballet pieces, Cinderella and Sleeping Beauty.
In February, The Acting Company from the Gershwin Theater in New York City presents Shakespeare's As You Like It.
For patrons with more contemporary interests, Calamity Jeanne, a cabaret band from Paris, makes its U.S. debut at the Rozsa Center on March 6-7, followed by two intimate, cutting-edge "Rozsa Backstage" performances with Ember and Poki's Button Wagon, an avant-garde mime and contortionist duo from New Orleans on March 19-20.
VPA will produce five plays this season, capping the year with a production on the Rozsa stage in April of the musical Fiddler on the Roof.
Subscription sales begin August 1. Single ticket sales begin September 1. For more information and to purchase tickets, contact Michigan Tech Ticketing Services at the Central Ticket Office (SDC), at 906-487-2073, or go online at rozsa.tickets.mtu.edu.
Michigan Technological University is a public research university founded in 1885 in Houghton, Michigan, and is home to more than 7,000 students from 55 countries around the world. Consistently ranked among the best universities in the country for return on investment, the University offers more than 125 undergraduate and graduate degree programs in science and technology, engineering, computing, forestry, business and economics, health professions, humanities, mathematics, social sciences, and the arts. The rural campus is situated just miles from Lake Superior in Michigan's Upper Peninsula, offering year-round opportunities for outdoor adventure.