Research in Kinesiology and Integrative Physiology focuses on these areas:
Researchers in the Electrophysiology Laboratory aim to understand how the central autonomic nervous system regulates cardiovascular function and body fluid and sodium homeostasis. The focus of our research is to identify the neural mechanisms of sympathetic activation in cardiovascular diseases.
---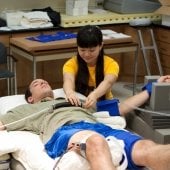 Research in the Integrative Physiology Laboratory primarily focuses on neural control of circulation in humans. These studies aim to better understand the mechanisms underlying cardiovascular disease and orthostatic hypotension, with the goal of uncovering methods for reducing their incidence.
---
Research in the Molecular Physiology Laboratory (MPL) focuses on the neurogenic mechanisms of hypertension and associated cardiovascular diseases with particular emphasis on developing novel targets for disease treatment and management.
---